Medical Lasers
The expanding application of medical lasers into aesthetic and surgical treatment introduces complex design challenges for original equipment manufacturers (OEMs). There is a greater need for multifunction equipment that addresses a wider range of treatments. Advanced Energy has a reputation of providing reliable, flexible, high-performance power solutions for medical laser equipment. In response to customer demands for smaller solutions for mobile equipment, we have a wide range of compact power supplies designed with best-in-class power density and reliability providing single and multiple outputs for all aspects of the equipment.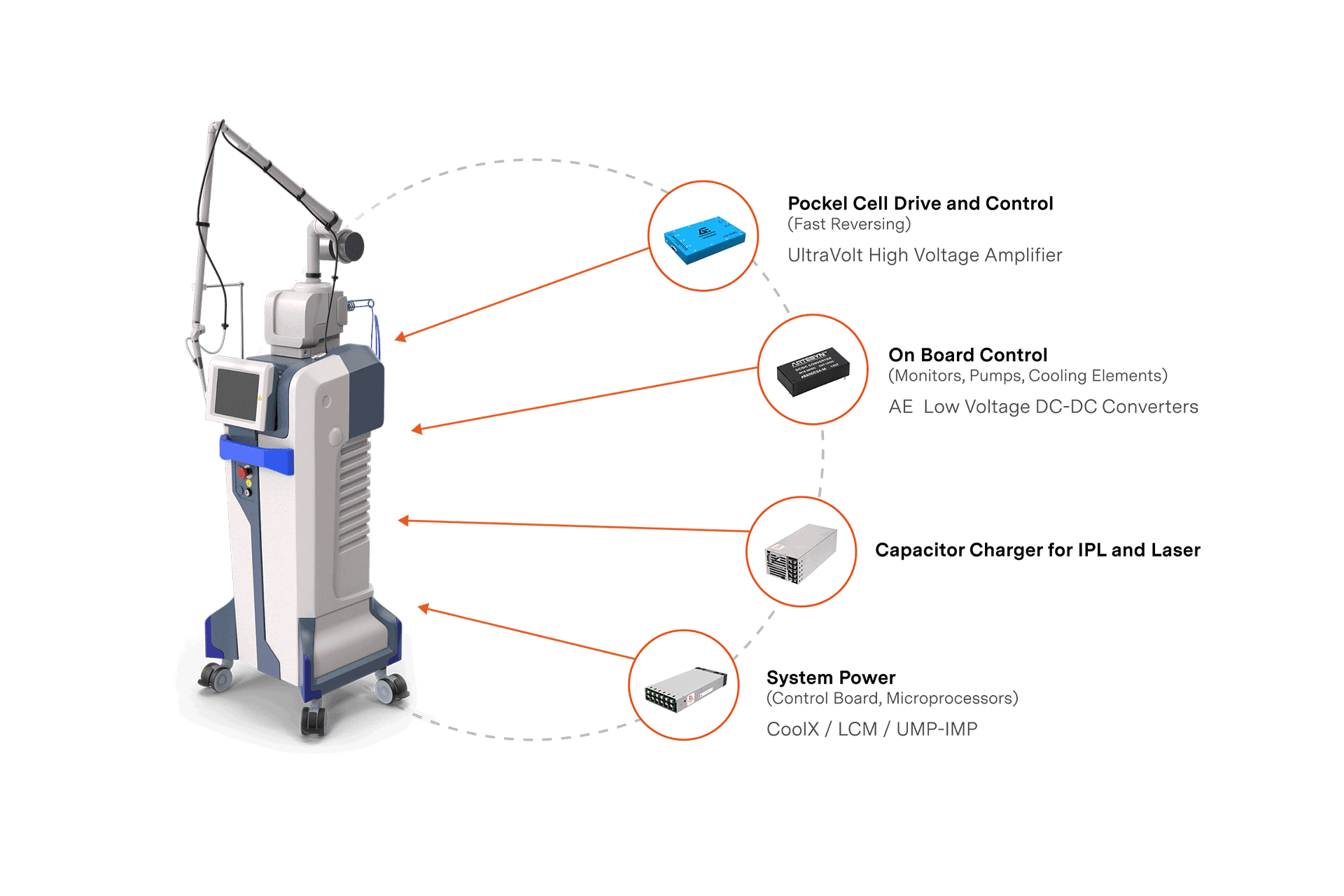 Trends in the Medical Laser Market:
Increasing usage of lasers in Aesthetic, Surgical, Ophthalmic & Therapeutic treatments.
Increase in surgical procedures, which has led to a sustained acceleration in product development cycles.
Need for faster surgical and aesthetic treatment times to improve patient outcomes and clinic workload.
While the Covid pandemic has impacted the market, the industry is expected to grow again at CAGR of >8% from 2022 onwards.
Equipment is located at clinics or hospitals, clinics so portability, size and weight become more important features & acoustic noise is even less tolerated
Smaller multi-functional systems needing mixed-voltage (configurable) & mixed-technology (high-voltage) co-existence
Increased regulatory complexity
Advanced Energy power supplies are designed for demanding medical and Cosmetic Laser applications, so laser manufacturers can optimize designs for high performance, reliability, and compliance. Advanced Energy can be your total power solution partner.
What We Power
Charging Capacitors
Cooling Pumps
TEC Elements
Pockels Cells
Control Electronics
Lithotripsy
RF