Advanced Energy Launches Intuitive, High-Accuracy Handheld Temperature Calibrators
Posted

April 06, 2023

DENVER, Colo., April 6, 2023 — Advanced Energy Industries, Inc. (Nasdaq: AEIS) – a global leader in highly engineered, precision power conversion, measurement and control solutions – has added two new high-accuracy handheld temperature calibrators to its TEGAM® family of measurement and calibration tools. These intuitive calibrators are suited for manufacturing and processing environments including operations in hazardous areas, with applications ranging from aerospace and automotive to chemical, pharmaceutical and food safety.

The Intrinsically Safe (IS) TEGAM 947A is designed for environments that are potentially hazardous due to the presence of flammable gases, vapors or liquids. While conventional IS calibrators are typically single Resistance Temperature Detector (RTD) probe stick thermometers, the 947A supports 14 thermocouple types for added flexibility. The TEGAM 948A offers integrated Bluetooth communication with any software running on a Windows, iOS or Android platform, eliminating the need for complex integration into existing control and monitoring systems.

"Quick and accurate temperature calibration is an essential aspect of many modern industrial manufacturing and processing environments," said Russ House, director of product line management, critical sensing and control at Advanced Energy. "Offering intuitive operation, our intrinsically safe and Bluetooth-enabled TEGAM calibrators significantly simplify and speed the calibration process while delivering best-in-class accuracy, portability and battery life."

The new laboratory-grade temperature calibrators feature simultaneous source/measure functionality and provide resolution to 0.01°C with an accuracy of +/-5 µV. Both units combine clear and informative backlit displays with a sealed keypad that rejects fluid and dirt without compromising tactile feedback. Each is powered by three AA batteries and battery life is rated at 500 hours. The 947A is UL-, CSA-, ATEX- and IECEx-certified for worldwide use.

For detailed product information and technical specifications, visit the TEGAM 947A and 948A pages.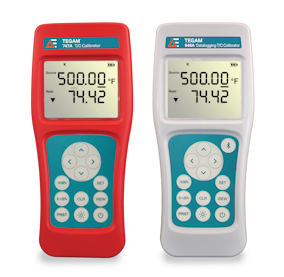 About Advanced Energy
Advanced Energy Industries, Inc. (Nasdaq: AEIS) is a global leader in the design and manufacture of highly engineered, precision power conversion, measurement and control solutions for mission-critical applications and processes. Advanced Energy's power solutions enable customer innovation in complex applications for a wide range of industries including semiconductor equipment, industrial production, medical and life sciences, data center computing, networking and telecommunications. With engineering know-how and responsive service and support for customers around the globe, the company builds collaborative partnerships to meet technology advances, propels growth of its customers and innovates the future of power. Advanced Energy has devoted four decades to perfecting power. It is headquartered in Denver, Colorado, USA.
For more information, visit
www.advancedenergy.com
.
Advanced Energy | Precision. Power. Performance. Trust