Advanced Energy Expands UltraVolt LE Series of DC-to-DC Converters for Precision High Voltage Applications
Posted

April 15, 2020

DENVER, April 15, 2020 — Advanced Energy Industries, Inc. (Nasdaq: AEIS) – a global leader in highly engineered, precision power conversion, measurement and control solutions – today announced it has expanded its UltraVolt LE Series of high voltage DC-to-DC converters with the introduction of three new models with higher maximum output voltage.

AE's new 20LE, 25LE and 30LE converters range from 20 to 30 kV DC maximum output voltage. They join the LE Series' existing line of six converter models that range from 1 to 15 kV DC maximum output voltage. AE's UltraVolt LE Series offers low ripple and stable performance over temperature for a variety of precision high voltage applications.

"With the expansion of our LE Series, customers now have a broader range of regulated DC-to-DC converters from which to choose, in particular for applications that require higher voltage," said Conor Duffy, vice president and general manager of high voltage and low voltage at Advanced Energy. "High precision medical and analytical equipment are core markets for our LE Series, where consistent high voltage performance in varying ambient temperatures and line loading conditions are critical for ensuring the most robust performance especially in mass spectrometry, electron and ion beam steering and focusing optics, capillary electrophoresis and electrostatics applications."

Other benefits of AE's LE Series include better measurement repeatability, resolution and longer-term reliability; enhanced high voltage output performance by minimizing control signal noise and drift; and acceleration of both electrical and mechanical integration tasks.

Features of the new 20LE-30LE series include:
Regulated high voltage outputs ranging from 20 to 30 kV DC maximum
Single output: positive and negative polarity models
4, 15 or 30 W of maximum output power
24 VDC input
0 to 10 VDC (full-scale) analog control interface with differential input
Temperature coefficient 25 ppm/°C
Control/monitoring of both output voltage and current setpoint levels
Optional enhanced output stability option for operation down to 0 VDC (4 W only)
Chassis mount
Front and rear panel high voltage output and return options
UL/cUL recognized
Product details and technical specifications for the full LE Series are available on the UltraVolt LE Series webpage.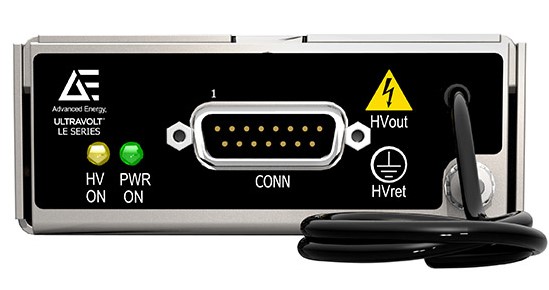 About Advanced Energy
Advanced Energy Industries, Inc. (Nasdaq: AEIS) is a global leader in the design and manufacture of highly engineered, precision power conversion, measurement and control solutions for mission-critical applications and processes. Advanced Energy's power solutions enable customer innovation in complex applications for a wide range of industries including semiconductor equipment, industrial production, medical and life sciences, data center computing, networking and telecommunications. With engineering know-how and responsive service and support for customers around the globe, the company builds collaborative partnerships to meet technology advances, propels growth of its customers and innovates the future of power. Advanced Energy has devoted four decades to perfecting power. It is headquartered in Denver, Colorado, USA.
For more information, visit
www.advancedenergy.com
.
Advanced Energy | Precision. Power. Performance. Trust