Investing in Education to Invest in the Future of Our Industry
It's clear that the Internet of Things, Industry 4.0 and advanced manufacturing, artificial intelligence and big data are going to have a major impact on available jobs. Recently, I've seen articles stating that "65 percent of the jobs of the future don't exist yet." So how do we prepare the next gen workforce for those skills?
The world is changing – the workforce of tomorrow will look much different from today and will need new skillsets. For example, application development demand is at an all-time high, and there's a shortage of software talent. Wired Magazine just ran an article, "The Next Big Blue Collar Job is Coding," which notes that a four-year computer science degree isn't the only educational path to landing $80K+/year salaried positions. Instead, community colleges or intense study programs like Dev Bootcamp can deliver the training required to "sling JavaScript for their local bank."
Moreover, as the pace of change accelerates, we must reevaluate how we think about getting a "good education." No longer is a traditional four-year degree the only way. We must embrace the fact that people have varied learning styles and different day-to-day needs. Providing multiple educational options (be it a 4-year degree, 2-year degree, apprenticeships, night school, online learning, etc.) to the emerging workforce, with the promise of meaningful, high-paying work on the other side, allows us to meet students where they're at while also reaping the benefits of higher graduation rates. Allowing students to professionally develop according to their learning style and preferred pace also makes for a more engaged workforce as those students start their careers and for greater job satisfaction over the long-term.
Building the Talent Pipeline
Preparing today's students for the jobs of tomorrow is not only important for our families and communities, it is also mission-critical for technology companies like Advanced Energy. The success of our business long-term hinges on a prepared and highly-skilled workforce.
You might have seen in previous posts that we have been offering financial support covering tuition and living expenses for summer interns through the Service Center Scholarship Program; both high school and military veterans are eligible for those scholarships. Our commitment to hiring military veterans extends beyond that program to recruiting at military bases and internal referrals. We've found many veterans who acquired technical skills during their service that match our technical, teamwork, and leadership requirements.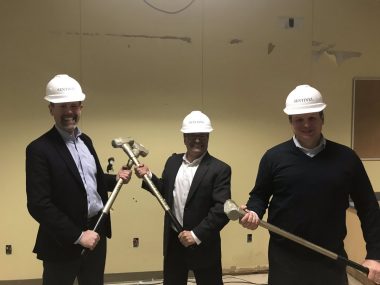 I'm excited about our recent investment in the workforce of the future – $200,000 in cash and equipment to fund the creation of the Advanced Energy Electronics Lab, one part of Front Range Community College's new Center for Integrated Manufacturing (CIM). Construction began in mid-January, marked by a wall-breaking/ribbon cutting ceremony. Scheduled to be ready in August 2019, the Lab offers students the opportunity to hone technical skills essential to modern manufacturing in a two-year curriculum. It might be a first step for high school grads or back-to-school adult students to start a career here at AE, leveraging a wide range of skills from hands-on electronic analysis and repair to software development. I've watched electronics technicians progress from entry-level techs to supervisory roles to strategic product management roles as they develop their skills on-the-job here at AE.
Building the talent pipeline is an industry-wide imperative. That's why organizations such as SEMI has launched mentoring programs connecting students with industry leaders and providing an avenue for women to explore high-tech. Rockwell Automation made a $12 million, four-year commitment to FIRST® (For Inspiration and Recognition of Science and Technology), a not-for-profit public charity founded to spark young people's interest and inspire their participation in science and technology; a program close to my heart as I lead a team early in my career while at Chrysler and learned as much from the high school students at Breithaupt Career and Technical Center in Detroit as they did from me.
Creating an Environment of Innovation through Diversity and Inclusion
I know from experience that some of the best ideas are formed deep in teams that foster inclusion. Some of the best innovation comes from diversity of thought, which comes from people with unique backgrounds, be it socioeconomic, educational, geographic, cultural, or gender-specific. Smart companies actively seek to foster environments that value creativity and pushes teams to build on and expand on each other's ideas so that the best ideas percolate to the top. I see this everyday in our global services division, where often our newest technicians may ask, "why do we do it this way," which the team then incorporates into their processes to drive innovation and change.
And while technologies are the foundation for our customer's processes, people still make the difference. At that point, it's again critical to have the next-gen skills and inclusive culture essential to move a seemingly "small idea" coming from anywhere in the organization – from the factory floor, the cubicle, or the board room – to commercial viability and maybe invent one or more of the 65 percent of jobs that don't exist right now.
In closing, I'll add another challenge – for our partners, our competitors, and for AE as well. What further investments can we all make in our future to ensure that the emerging workforce has the skills, motivation and inspiration needed to continue to improve both our products and the world at large?
John Williams
Advanced Energy
John Williams joined Advanced Energy in December 2016 as general manager of industrial services and now serves as senior vice president of industrial and medical products. Prior to assuming his current role, he held multiple leadership positions within the company including heading Advanced Energy's global service team. Williams is an experienced strategic global business leader with a history of success delivering complex global market solutions while continuing to reduce time to profit by driving vision and motivating cross-functional international teams. Before joining Advanced Energy, Williams held marketing, business development, sales, and engineering leadership roles at Woodward, Inc. and MotoTron. Williams started his career in the automotive industry working for Chrysler and DaimlerChrysler. Williams serves on the board of directors for the Fort Collins Museum of Discovery. He holds a Bachelor of Science in mechanical engineering from Lehigh University, a Master of Science in mechanical engineering from the University of Michigan, a Master of Science in electronics and computer-controlled systems from Wayne State University, and a Master of Business Administration from the University of Michigan.
More posts by John Williams