Advanced Energy's Expanded Pyrometer Series Simplifies and Improves Process Control for a Wider Range of Industrial Applications
Posted

June 29, 2022

DENVER, Colo., June 29, 2022 — Advanced Energy Industries, Inc. (Nasdaq: AEIS) – a global leader in highly engineered, precision power conversion, measurement and control solutions – today expanded its Impac® Series 600 pyrometer platform with new modular sensor heads. Supporting a wide range of wavelengths and temperature ranges, the IS 600, IGA 600, IGA 600/23 and IN 600/5 sensors expand Advanced Energy's leading non-contact temperature measurement portfolio for a wide range of industrial applications, including steel, glass and ceramics manufacturing.

A modular, flexible and cost-effective pyrometer platform, the Series 600 is designed to simplify the installation and maintenance of industrial manufacturing processes. Its multi-point measurement capability enables improved uniformity and process control required for critical manufacturing steps. The ability to easily and quickly replace or add a new sensor head in the field reduces downtime and lowers total cost of ownership.

"As customers begin to implement Industry 4.0 technologies in their manufacturing, they need comprehensive, real-time process and equipment data to monitor and control critical manufacturing steps," said Jeff Hebb, vice president of strategic marketing and applications, critical sensing and control at Advanced Energy. "By providing highly accurate, multipoint temperature monitoring and control, the expanded Series 600 improves product yield and increases line productivity for a wide range of industrial applications."

The addition of four new sensor heads expands the Series 600 platform's temperature range to -40 to 2500°C. It now covers five spectral ranges between 0.7 to 14 μm. By utilizing the modular Series 600, a system can be configured with up to eight measurement points, and sensor heads can be selected independently for each point. Multiple communication options with analog, RS485, RS232 and Profinet interface enable the Series 600 to be easily integrated into factory automation systems.

In addition to the new sensor heads, single and multi-channel converter boxes have been introduced to give customers further flexibility in their factory automation communication options. Providing an optional display for temperature measurement and parameters directly in the instrument, the converter boxes enable users to conveniently change the settings without connecting to a separate computer in the field.

For detailed product information and technical specifications, visit Impac 600 Series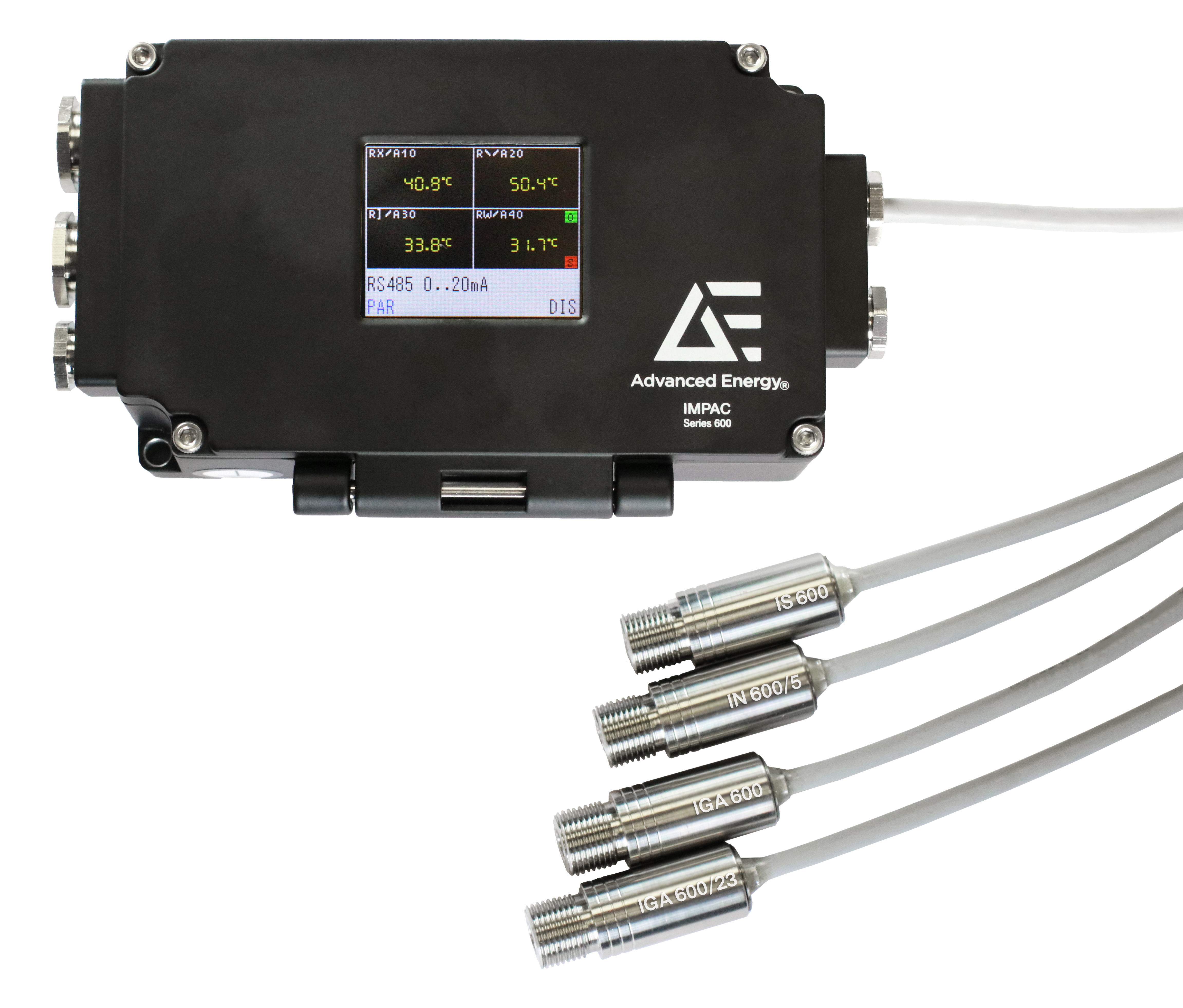 About Advanced Energy
Advanced Energy Industries, Inc. (Nasdaq: AEIS) is a global leader in the design and manufacture of highly engineered, precision power conversion, measurement and control solutions for mission-critical applications and processes. Advanced Energy's power solutions enable customer innovation in complex applications for a wide range of industries including semiconductor equipment, industrial production, medical and life sciences, data center computing, networking and telecommunications. With engineering know-how and responsive service and support for customers around the globe, the company builds collaborative partnerships to meet technology advances, propels growth of its customers and innovates the future of power. Advanced Energy has devoted four decades to perfecting power. It is headquartered in Denver, Colorado, USA.
For more information, visit
www.advancedenergy.com
.
Advanced Energy | Precision. Power. Performance. Trust