PSMA Technology Roadmap Informs Future Power Development
Veröffentlicht

März 14, 2023

von

Conor Quinn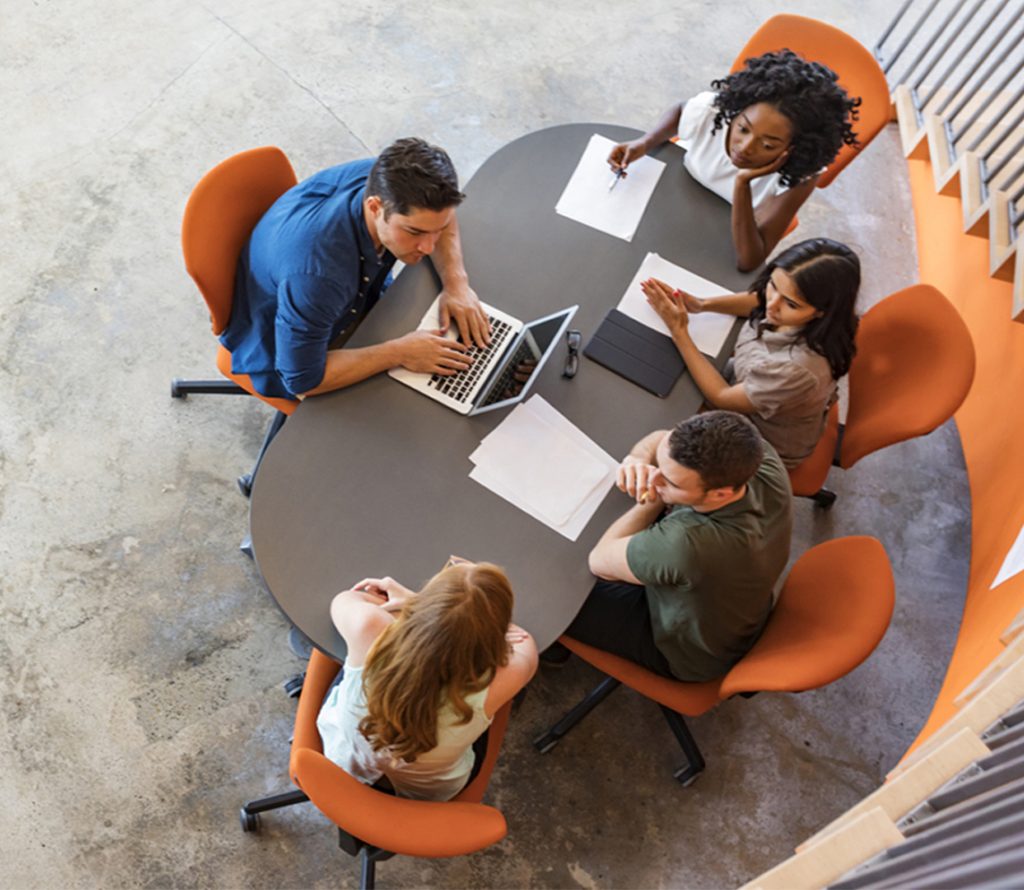 The publication of the Power Technology Roadmap every few years by PSMA may be its most visible contribution to the Power Electronics Industry. The 12th edition of the PSMA Power Technology Roadmap was distributed to members in June 2022, and now made available to non-members. Advanced Energy has contributed to the development of this document for many years and I was honored to co-chair the working group responsible for this latest publication.
Why Participate?
So why does AE actively participate in the development of this roadmap? The maxim "you get out what you put in" certainly applies here.
Technology road-mapping is not a trivial exercise and any good technology roadmap is not developed in a vacuum. The power technology roadmap (PTR) is no exception. It is successful in large part due to the collaboration of a diverse community of contributors including more than 100 all-volunteer participants who are recognized as leading experts in their respective fields. Advanced Energy is active within this community and our own technology roadmap and platform development is informed by our participation.
Consider the following three benefits of active involvement in the development of the PTR: access, timeliness, and cutting-edge research topics.
First, being part of the process gives us access to a network of technologists beyond our existing supplier base and served customers. The PTR committee includes representatives of many of our suppliers, peer competitors and customers. While we engage with these stakeholders during the normal course of business, this non-competitive collaboration through PSMA facilitates and expands discussion of topics that impact the industry more broadly and beyond our immediate purview. In addition, the discussions and presentations also include suppliers, equipment-makers, and end-users that we might not otherwise be exposed to. These stakeholders often influence roadmaps and adoption of new and emerging technologies in ways that we might not anticipate. Non-participation in the process could result in many 'blindspots' – never a good thing when trying to predict the future!
Second, the timely availability of information about emerging technology is critical.
As the PSMA roadmap is only published every two or three years, contributing to and leading the discussions gives us immediate insight into the current state of the technology and an improved ability to anticipate what happens next. In addition to the timely availability of information, the time-to-adoption of a new and emerging technology can be better estimated. Any new technology is subject to hype and a prediction of imminent adoption. The reality is often (usually?) quite different, and discussions with suppliers, peers, and customers can help understand and evaluate the readiness for adoption and where early adoption is likely to occur. Perhaps more importantly, it can help in the prediction of which applications may lag in adoption and focus scarce research development resources and expense.
And third, while cutting-edge research may be carried out by industry partners, more fundamental and exploratory research is often funded through universities and research institutes. The PTR recently added a section in the report specific to this aspect of technology research. This year, that section was further refined and expanded. While any one company is constrained to providing funding to a small number of partner universities, the report provides a broader perspective and highlights important activity and global trends in university research.
Latest Roadmap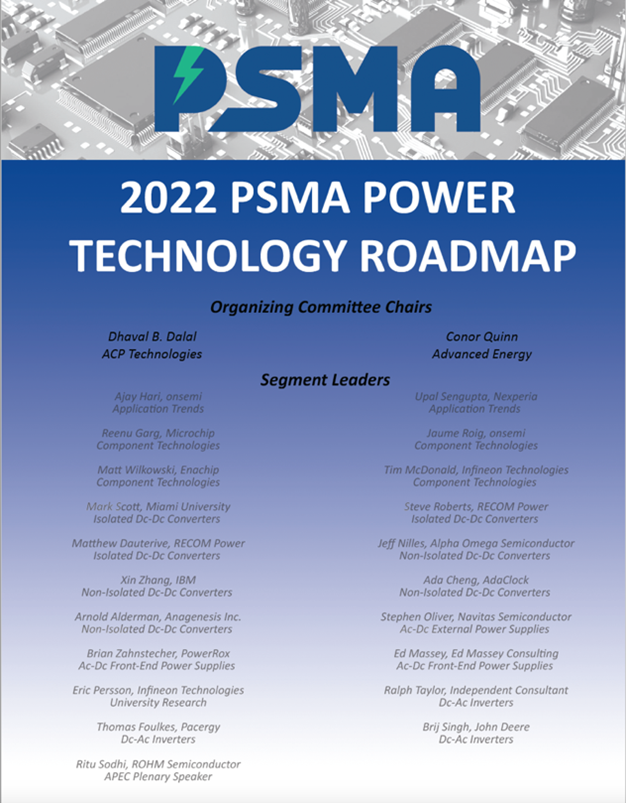 The 12th Edition of the PSMA Power Technology
Roadmap is Available Now
What has become clear as the Roadmap has evolved over the last few years is that power conversion is now also integral to the roadmaps of our customers. This is, in large part, due to an increased focus on improving energy use in line with sustainability goals and environmental legislation. Power electronics is now much more of an enabler than an afterthought and efficiency and power density are fast-becoming watchwords across a variety of application areas. Reducing the size of power conversion and management systems is a common theme in most use cases, while many emerging applications - including solar inverters, variable frequency drives, electric vehicles and LED lighting systems - have power technology at their very core.
What's more, it's not just design engineers who are looking at power. Thanks to environmental awareness and a focus on reducing energy costs, there is a growing understanding among the general public of the need to consider efficiency when buying products. As a result, the power supply industry, despite pandemic-related setbacks, plays a critically important role in the next phase of the electronics industry's evolution as designers and OEMs look to drive smaller size, higher efficiency, better electrical performance and reduced product and total cost of ownership (TCO).
The latest roadmap covers five key areas:
Application Trends
Component Technologies
University Research
Webinar Presentations
Power Supply and Converter Trends
Technology Adoption and Performance Improvement
At Advanced Energy, our designers and engineers strive to lead the industry across many of the key trends and themes covered in the roadmap. AE's dedicated R&D teams continue to deliver improved power conversion efficiency and power density, balanced with exceptional stability and nimble control and response for applications as diverse as horticultural lighting, semiconductor manufacturing, data centers and industrial automation.
AE continues to invest in advanced technology development, both internally and with our industry and academic partners. The breadth of this new technology ranges from new wide bandgap semiconductor devices, through advanced topologies and packaging, to precise and adaptive control schemes. Per the examples below, the adoption of these new technologies enables AE's roadmap of industry-leading, energy-efficient, precision-power solutions. This in turn enables our customers to lead their industries while simultaneously addressing their needs to positively impact the environment through reductions in power consumption and carbon emissions.
AE will continue to lead and contribute to these technology roadmap activities. We do this for our own direct benefit, but also to reap the benefits that only industry-wide initiatives can provide.
Conor Quinn
Advanced Energy
As Senior Director, Technical Strategy at Advanced Energy, Conor is responsible for technical strategy and technology planning across the company's served market segments. Prior to his current role, he has held design engineering, product management and technical marketing roles. Conor also co-chairs the Power Sources Manufacturer Association (PSMA) Power Technology Roadmap.
Mehr Beiträge von Conor Quinn
Verwandte Beiträge