At Advanced Energy, we offer Storage solutions that furnish efficient and reliable networked mass-storage devices, designed to facilitate multiple users and devices in retrieving data from a centralized disk capacity. We place paramount importance on maintaining high uptime and ensuring the reliability of our power conversion products, crucial for optimal performance in substantial data centers and enterprises.
Simplify Your Storage Needs with Advanced Energy's Power Solutions
Recognizing the vital role Storage solutions play in contemporary computing environments, our power conversion products ensure the smooth and efficient operation of mass-storage devices. Whether your needs are based in expansive data centers or within an enterprise, you can rely on the innovation, reliability, and efficiency of our power conversion products to support your Storage solutions.
Networked mass-storage devices are the backbone of enterprise file storage systems. These systems enable multiple users and devices to retrieve data from centralized disk capacity, making them a crucial component of data management for enterprises of all sizes. At Advanced Energy, we understand the importance of high-uptime and reliability in these applications, which is why we offer power solutions that simplify design and enable rapid deployment for Hyperscale and Enterprise Storage needs.
Our range of AC-DC and DC-DC Front-end solutions is finely tuned for storage applications, offering a broad spectrum of output power with options for both 12 and 48 V output voltage. We oncentrate on enhancing efficiency and power density, aiming to lower the total cost of ownership, which renders our solutions perfectly suited for enterprise storage requirements. Our portfolio also encompasses a vast array of industry-standard board-mounted power modules, widely adopted by OEMs and system integrators.
At Advanced Energy, we understand that client-sensitive data needs to be protected at all times. Our power solutions are designed with high-uptime and reliability in mind, so you can trust that your data is secure. Our products have been installed in some of the largest and most demanding storage systems in the world, delivering reliable power to keep your systems running 24/7. Simplify your storage needs with Advanced Energy's power solutions, and trust that your data is in good hands.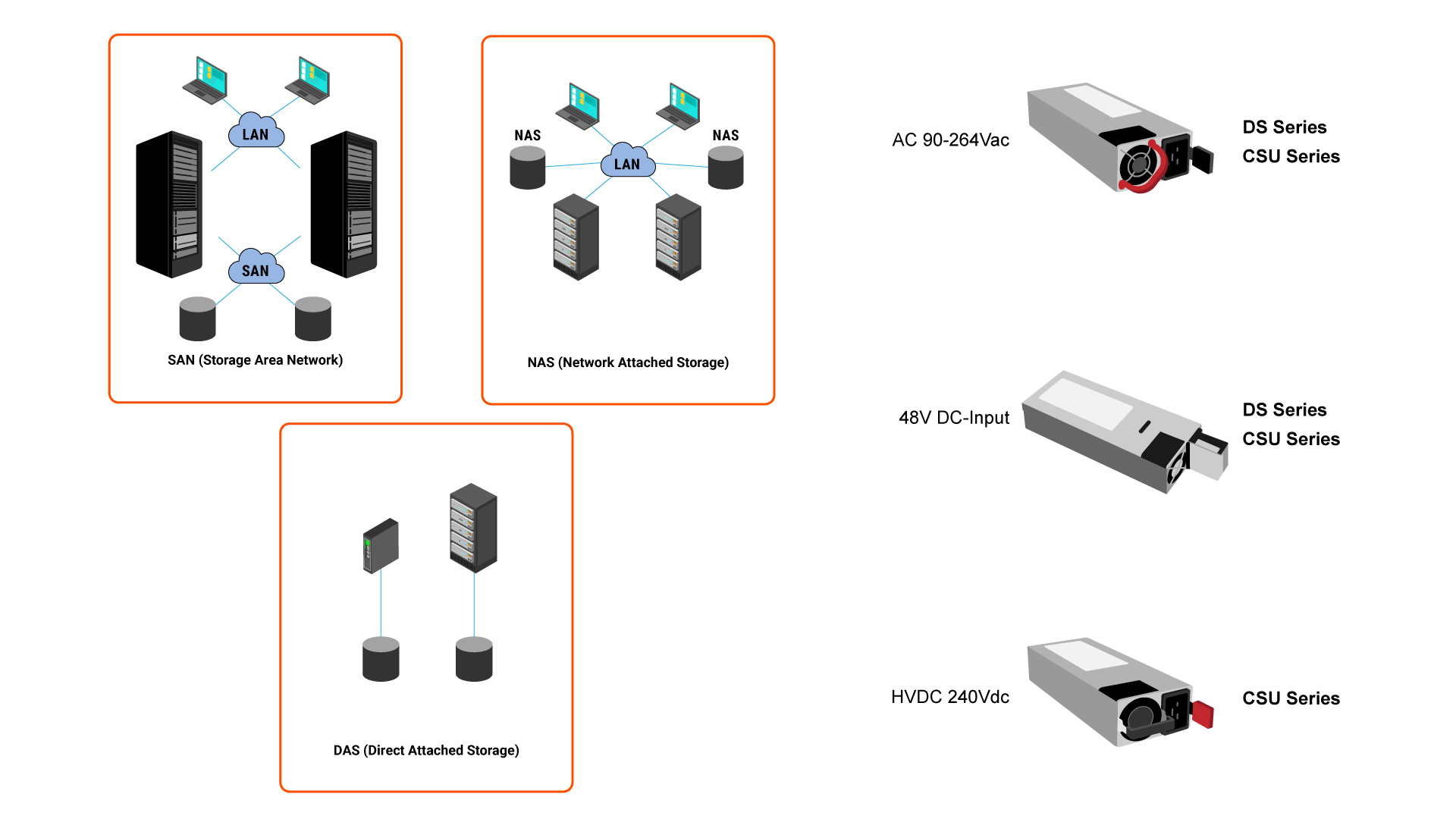 Ausgewählte Ressourcen
Technische Videos
Building PSUs for Power Density and Consumption
Nov 1, 2021
The higher power needs of next-generation processors are driving the demand for innovative power density solutions. Through Advanced Energy's global network of manufacturing partnerships, including top server manufacturers and major OEMs and ODMs, we've become one of the top-ranked suppliers of both custom and off-the-shelf products. Watch this video to learn more about Advanced Energy's CRPS product line, the path to titanium efficiency and power supplies up to 3000 watts, how our designs address challenges like system backpressure, and the benefits of working with Advanced Energy.