LED luminaires have replaced high-pressure sodium (HPS) lamps when supplementing natural light in large greenhouses. This setup can be further improved by eliminating individual AC/DC drivers for LED luminaires and directly supplying power via Advanced Energy's centralized system installed separately from the growing area.
Transform Your Greenhouse Operations with Advanced Energy's High-Voltage DC Bus System
Greenhouses are the perfect solution for growers looking to optimize growing conditions for specific plant crops. With equipment including screening, heating, cooling, and lighting installations, modern greenhouses are computer-controlled to regulate climatic conditions like temperature and humidity. But what about lighting? Traditional broad-spectrum lighting sources like high-pressure sodium (HPS) lamps are no longer the best solution.
Excess heat can be managed seasonally—vented externally in the summer or directed into the growing area in winter. Distributing DC to LED fixtures offers a grid- and budget-friendly solution with high Power Factor and low Total Harmonic Distortion. Utilizing high voltage leads to thinner power conduction wiring, reducing costs and distribution structure weight. Moreover, lower currents significantly decrease wiring losses.
By supplying power directly to the luminaire, our centralized system solutions provide a grid- and budget-friendly solution with high power factor and low total harmonic distortion. And with thinner power conduction wiring and significantly reduced wiring losses, our system can reduce costs and weight on the distribution structure.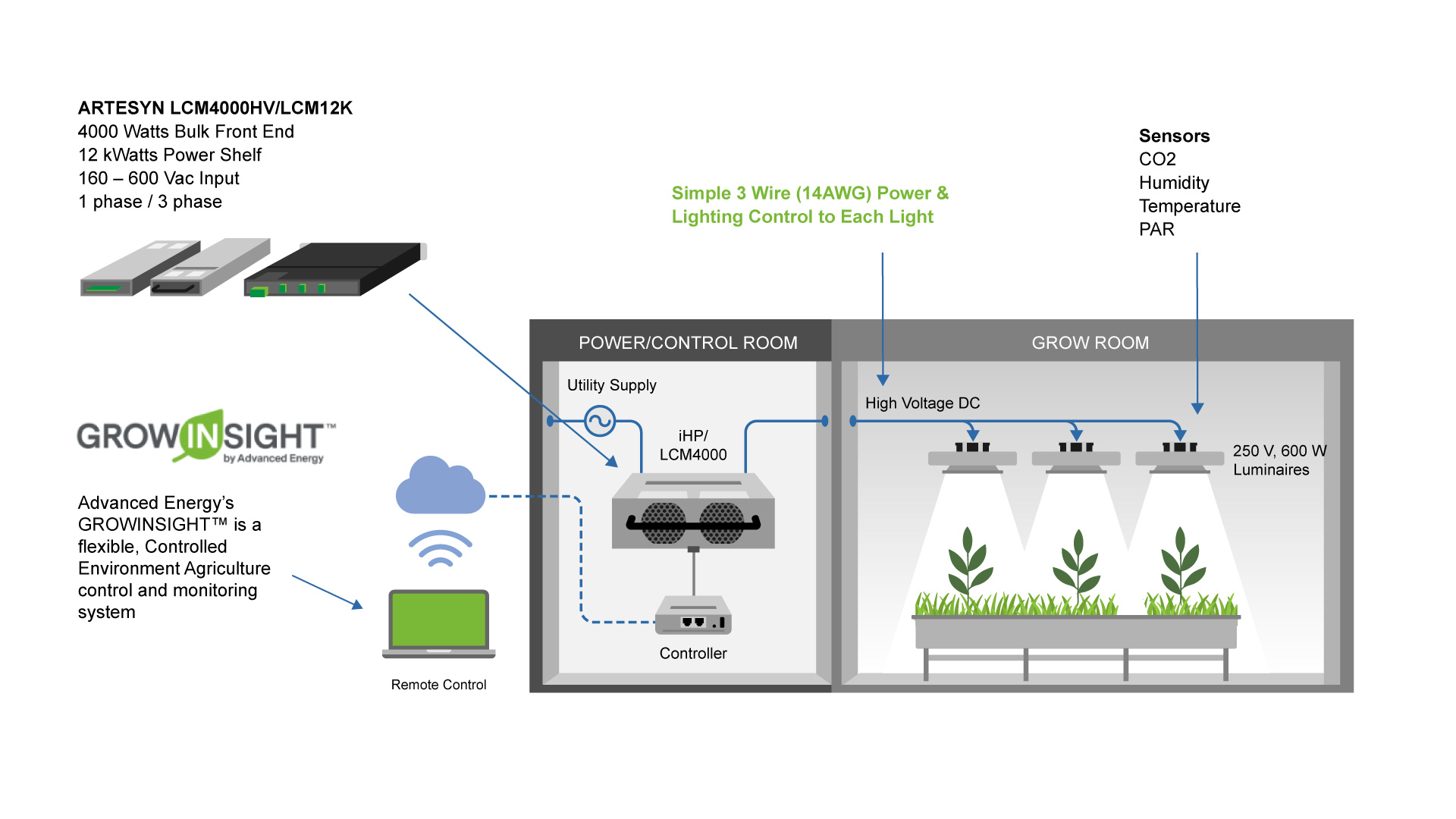 Technische Videos
Horticultural LED Lighting Power Solutions Animated Explainer
Mai 20, 2021
The traditional way of powering horticultural LED lighting is to have an individual power supply, often called an LED driver, on each light fixture. But this is not efficient. LED drivers generate a lot of heat. Each light gives off heat and the LED driver adds more heat to the grow area. With the added heat, air conditioners that cool the grow room are bigger and more expensive than they need to be, adding to the grower's energy costs. Add in the complexity of individual control systems on each fixture with the additional cabling required and the result is higher installation costs. So, Advanced Energy developed a new approach, which is to use a centralized power supply outside of the grow area. This eliminates the need for individual drivers and the power and heat they create is extracted from the grow area and moved to the electrical cabinet. The power supplies therefore no longer need to be ingress protection or IP rated. The heat generated can be exhausted to the outdoors or, in cooler climates or wintertime, crops such as cucumbers and tomatoes may need additional heat within the grow area, so the heat can be redirected inside. Helping to reduce the need for additional heaters in the winter. This approach also results in fewer temperature fluctuations, and more stable humidity and CO2 levels. Advanced Energy's iHP or Intelligent High Power system is a centralized remote power supply designed for horticultural lighting systems. The iHP power system is not tied to any particular light fixture or system. It can be used with any LED grow light and deliver all the same benefits. The iHP power system can also be controlled remotely using an optional connection module and cloud-based management tool. This can eliminate the need for additional lighting controllers, which are often based on PLCs or industrial computers, removing the associated control wiring and installation requirements. This programmability enables more crop cycles and different crops. Customers use the iHP system in new indoor growing installations. Greenhouse managers looking to retrofit LED fixtures to replace legacy HPS lamps also find success with this solution. Advanced Energy customers have saved up to 35% of their capital costs using this approach, and save around 20% of their operating costs every year. Helping them to significantly reduce their carbon footprint.