20 Years of No Strings Attached Performance
Veröffentlicht

Dezember 15, 2020

von

Peter Gillespie

"No strings attached performance" in RF plasma power for semiconductor manufacturing? Here at Advanced Energy (AE), we like to say, "no cables attached performance." This was just one of the five daunting challenges we solved when designing our unique genre-breaking RF plasma power delivery system:
No cables from RF generator-to-match and match-to-process chamber electrode
Ultra-fast RF tuning for very short process steps
Wide impedance operating range
A compact single package to fit in small spaces (enabling direct connection to chamber)
Less expensive than traditional RF generator + matching network + connectors + cables
Twenty years ago, we pioneered the first commercially viable, fully integrated RF generator and solid-state matching network system … and it's been a massive success. Since then, we've shipped more than 20,000 RF delivery systems with "no cables attached performance" to customers around the world. What began in the year 2000 with our first production volume shipments of the fully integrated system has now evolved into the Paramount® HFi™ – today's all-digital, integrated generator and solid-state match system.
To meet the demand for a small footprint in advanced semiconductor processing tools such as PECVD and plasma Etch, we developed the most compact and highest performing integrated RF delivery system available. With a package size of 8.5" (W) x 16.5" (D) x 5.25" (H), the HFi products have been recognized for segment-best power density record (~0.25 watts/cm3). The compact package, which would be substantially smaller than a combination of a standard RF generator and a match network, makes it ideal for integrating right onto the process chamber, where space is often limited.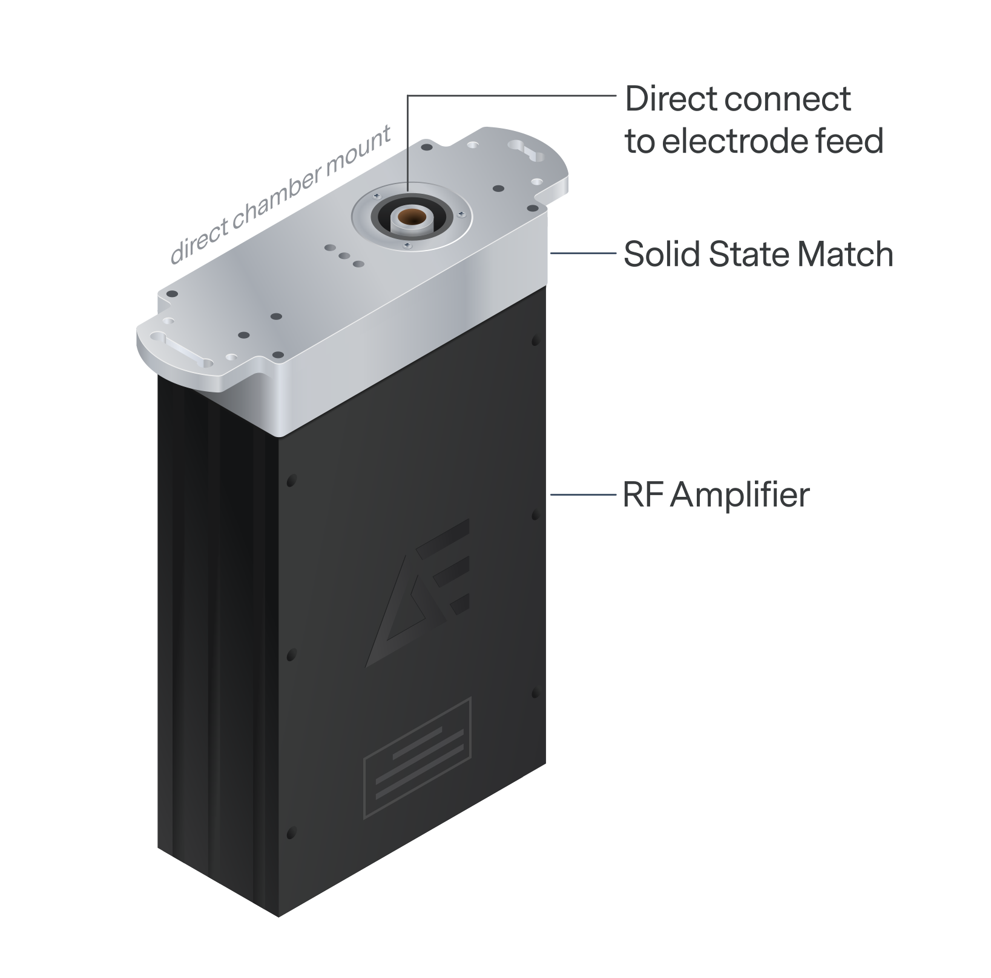 In the Paramount HFi, an electrically switchable solid-state capacitor array is physically integrated with the RF power amplifier providing the most compact form-factor power delivery system available.
It turns out good things do come in small packages – especially when it comes to controlling plasma processes. Paramount HFi delivers the fastest response times with sub-millisecond regulation for crisp transitions on even the shortest process steps at over 32 tune range positions. As seen in the first graph below, typical power delivery of an RF match based on the variable vacuum capacitor could take 0.75 seconds of fluctuation before reaching a new setpoint. Comparing this slow response to the second graph, AE's solid-state match response with direct coupling to the process chamber makes process transitions into nearly vertical step functions. With nimble, wide-range solid state matching, the HFi series has become an enabler for future generations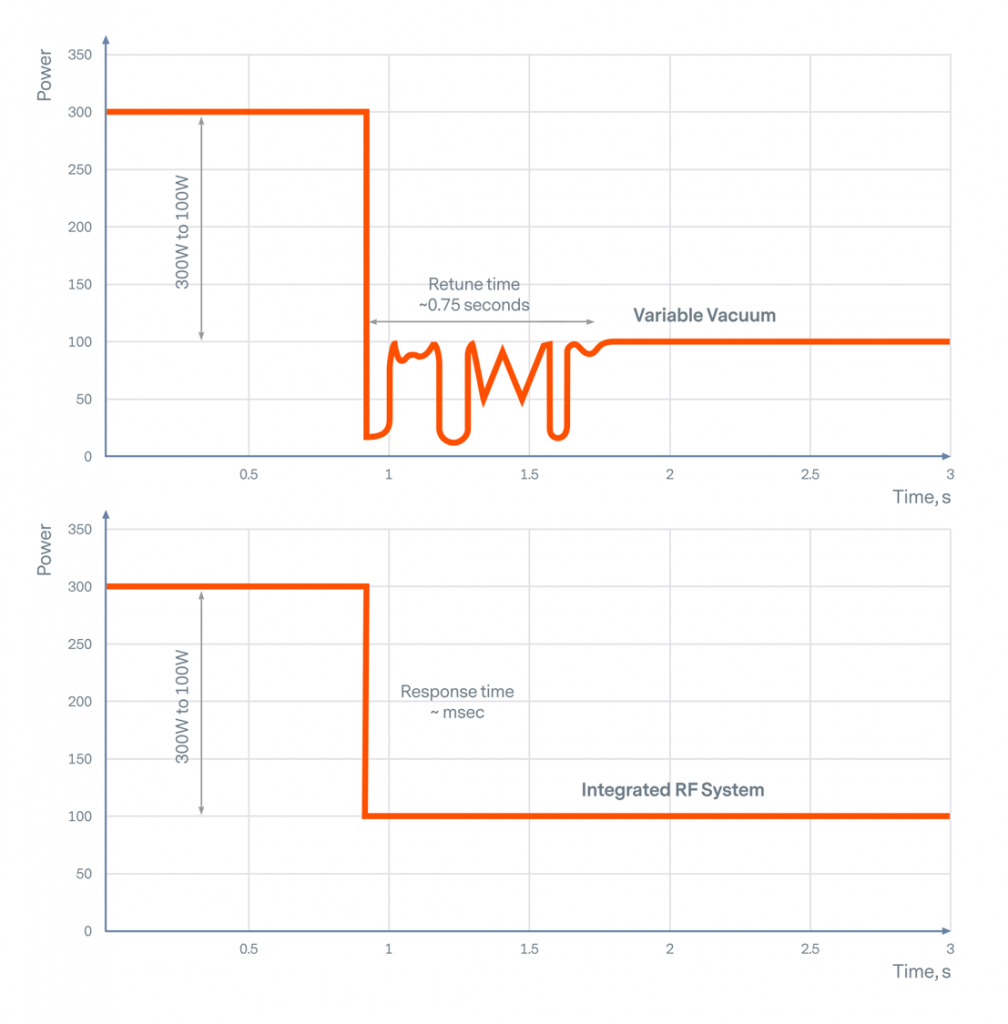 The Paramount HFi delivers power to a setpoint change from 300 to 100 W within a millisecond timeframe. This ensures constant, repeatable power delivery where the near-instant tuning increases productivity for these very short, high-cycle count plasma deposition processes.
After 20 years and 20,000 units shipped, our "no strings attached performance" is just hitting its stride alongside our latest innovations.
Peter Gillespie
Advanced Energy
Peter Gillespie joined Advanced Energy in January 2019 and now serves as senior vice president of strategic and corporate marketing. This is his second tenure at the company. Gillespie has held various leadership roles at Advanced Energy including senior vice president of semiconductor and computing products, vice president and general manager of semiconductor products, as well as vice president of global sales. Between positions at Advanced Energy, Gillespie was chief marketing officer at SEMI, the global industry association representing the electronics manufacturing and design supply chain. Prior to his first tenure at Advanced Energy, Gillespie was president of Tevet Process Control Technologies (acquired by Onto Innovation) and held leadership positions at KLA, Boxer Cross (acquired by Applied Materials), Fusion Semiconductor (now Axcelis), and Intertek. Gillespie serves on SEMI's Board of Industry Leaders and on California Polytechnic (Cal Poly) State University College of Engineering Advisory Board. He holds a Bachelor of Science in mechanical engineering from Cal Poly State University – San Luis Obispo and has completed post-graduate courses in marketing, innovation, and finance at Stanford University.
Mehr Beiträge von Peter Gillespie
Verwandte Beiträge