Making the Switch at Speed
Veröffentlicht

Dezember 17, 2020

von

Denis Shaw

With the goal of enabling faster semiconductor manufacturing plasma processes, Advanced Energy (AE) threw the switch on a radical development program back in 2010 to develop and launch the industry's fastest RF power tuning network. In 2020, we launched our latest, even faster, solid-state tuning network with sub-millisecond response times with the introduction of the Navigator® II FCi. With these milestones, we not only transformed the industry by developing the fastest RF tuning networks, but we also changed ourselves by learning to deliver product innovations radically faster.

The semiconductor industry's relentless pursuit to pack ever-increasing performance in smaller packages drives thinner films and narrower linewidths. In many applications, this means very short process steps with plasma transition times faster than conventional vacuum capacitor-based tuning networks can react.

We pioneered solid-state RF matching (tuning) technology for semiconductor plasma processes in the 1990s. Over the past 20 years, we've shipped more than 20,000 RF delivery systems with integrated solid-state matching networks built into those systems. These innovations met the critical industry need for ultra-fast tuning with millisecond response timeframes.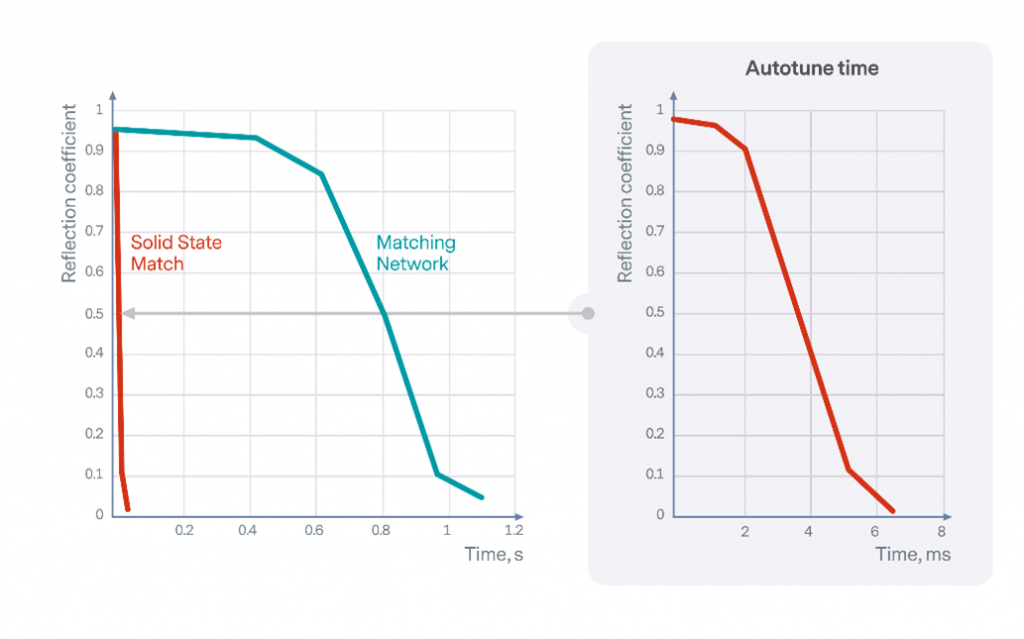 Typical tuning time of a traditional matching network (blue line) and a solid-state match (red line) on a plasma chamber are compared in the left graph. The expanded view of the SSM tuning trace on the right shows that full tuning can be achieved in the millisecond timescale, compared with hundreds of milliseconds for a traditional match.
Around 2010, there was a rapid expansion in the number of new applications that could leverage ultra-fast, millisecond tuning, such as Atomic Layer Deposition (ALD). There was also a growing need for the flexibility to have independent, stand-alone, solid-state matching networks —rather than fully integrated into an RF delivery system. A stand-alone solid-state match would enable an additional range of innovations where the RF generator(s) could be more specifically optimized for the overall, often multi-frequency, RF circuit.
To meet the growing customer needs, AE set out to quickly deliver a stand-alone solid-state matching product. At that time, Yuval Wasserman, who was AE's COO at that time and is currently AE's CEO, made a bold decision: "AE would develop a fully novel stand-alone solid-state matching network platform in less than a year." Typically, new technology development from the ground up would take two or more years, which made this a very loft goal. Upending traditional product development approaches, Yuval pulled together a kind of "AE-Skunk Works" that coincidentally leveraged Lockheed's Skunk Work approach and Kelly Johnson's 14 Rules and Practices, such as:
#2: Viciously minimize the team
#3: Collocate somewhere small
#4: Isolate the team with strictly controlled security measures
#7: Involve the whole team in the big picture
#8: Reward performance, not status
AE's bold shift came following the severe 2009 industry downturn where any investments were under incredible scrutiny and the industry generally hove to more incremental approaches. Undeterred, the AE's solid-state match "skunk works" team kicked off in 2010, and quickly developed the technology and secured initial patent priority dates throughout 2011 before introducing the product to partner customers in closed-door events at SEMICON West 2011.
This switch proved a success. Following customer early learning shipments, the solid-state Navigator II FastCap™ was launched to the broader market one year later at SEMICON West 2012 and set the bar as the fastest stand-alone RF plasma power matching network.
Building on the success of the Navigator II FastCap, we introduced Navigator II FCi in 2020. This new, faster solid-state matching network again raised the bar on RF matching network speeds to sub-millisecond processes. With broadened power and impedance ranges and an ultra-fast turning speed, Navigator FCi enables next-generation applications such as Atomic Layer Etch (ALE).
The Navigator II FastCap program was a monumental switch in AE's program development process and brought solid-state matching to meet a critical market need. As we look to the future, keep watching AE as we continue to "switch it up" to meet our customers' fast-evolving needs.
Denis Shaw
Advanced Energy
Denis Shaw is the Vice President of Integrated Solutions, Semiconductor, at Advanced Energy. In his 20 years at the company, he has held a number of technical roles in design engineering, plasma applications, and advanced technology. Denis holds PhD in Electrical Engineering from Colorado State University.
Mehr Beiträge von Denis Shaw
Verwandte Beiträge