September 2023
Igniting Curiosity. Powering Innovation
Message from AE Leadership
The Q3 2023 edition of The Plasma Press provides our channel partners with sales tools and information about key AE activities. We hope you find these resources valuable and we welcome your feedback. - Juergen Braun, Senior Vice President, Plasma Power Business Unit


---
​
eVerest and eVoS ME launch Video
​

Watch Semiconductor Digest's coverage of the live premiere of the eVerest RF power delivery system and the eVoS ME asymmetric bias waveform generator. Editor-in-Chief Pete Singer interviews Juergen Braun, Advanced Energy's SVP of Plasma Power, about AE's newest innovations for Angstrom Era semiconductor manufacturing.


AE's Paul Maloney joined Trevor Galbraith from Global SMT TV at SEMICON West to discuss the eVerest RF plasma power delivery system, including its dynamically controllable multi-level pulsing, rapid setpoint response, widened stability range, and more.

Customer Solutions Lab: Driving the Thin-Film Industry Forward
AE's state-of-the-art Customer Solutions Lab, located near Frankfurt, Germany, performs research, development, and customer product demonstrations for plasma/vacuum-based equipment and thin-film deposition/characterization. The lab continuously conducts research aimed at driving the thin-film industry forward and better serving the needs of our global customers.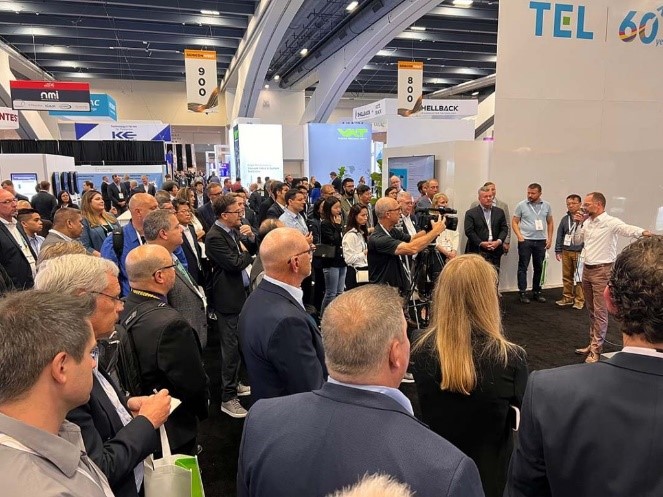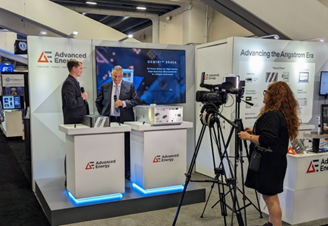 eVerest and eVoS Advance the Angstrom Era at SEMICON West
On July 12, 2023, at 10:45 a.m., a large crowd surrounded AE's booth for the launch of the eVerest™ RF power generator and eVoS™ ME asymmetric bias waveform generator. The sense of excitement grew as customers, members of the press, competitors, and industry figures assembled, anticipating a first glimpse of AE's formidable innovations.
Learn more in our SEMICON West 2023 wrap up blog:
SEMICON West 2023 Blog
Also visit our
eVerest and eVoS resource page
, a central location for new product-related content, including press interviews with SVP Juergen Braun and Senior Product Manager Paul Maloney at SEMICON West.
SVC TechCon 2023 – Quality, Throughput, Yield
Several themes emerged at this year's SVC TechCon. In particular, there is an ever-increasing focus on improving quality and reducing defects while ensuring repeatability to optimize throughput and maximize yield.
Read
SVC TechCon 2023 — Quality, Throughput, Yield | Advanced Energy
for a full picture of the goings on at the conference.
Engineered to Power Innovation: AE Launches New Website
August 29 marked the debut of the new AE website! With enhanced search capabilities, a distinct application-centric focus, and easy-to-use navigation, the all-new Advancedenergy.com is engineered to power innovation.
What's new on the website?