Advanced Energy Launches Handheld Bond Meters for Hazardous Environments with Optimized Connectivity and Integration
Veröffentlicht

August 25, 2022

DENVER, Colo., August 25, 2022 — Advanced Energy Industries, Inc. (Nasdaq: AEIS) – a global leader in highly engineered, precision power conversion, measurement and control solutions – has expanded the TEGAM® 700 series of bond meters with the addition of two handheld measurement tools. The TEGAM 720A and TEGAM 730A bond meters are suitable for use in the manufacture and maintenance of automotive, aerospace, renewable energy equipment and other applications in which testing of the integrity of mechanical and electrical bonds is a critical requirement.

The TEGAM 720A and 730A are the industry's smallest and lightest bond meters. The TEGAM 720A is an intrinsically safe device designed for use in environments where flammable gases or liquids may be present, and conventional tools cannot be used without potential safety risk. The TEGAM 730A with Bluetooth LE connectivity allows seamless data communication with any software running on a Windows, iOS or Android platform, eliminating the need for complex integration into existing data logging systems.

The new handheld tools offer industry-leading leading accuracy of 0.2% with resolutions of 1 µΩ. This performance is maintained across a wide operating temperature range of -10 to 55°C, enabling the bond meters to be used in a wide range of applications and environments. Each has a clear and informative backlit display with a sealed keypad that rejects fluid and dirt without compromising tactile feedback. The battery life of the three AA batteries that power the tools is around 100 hours. A three-year warranty is offered on both tools as standard.

"Our high-accuracy, handheld milli-ohmmeter tools enable engineers and operators to easily measure the integrity of electrical and mechanical bonds in a wide variety of applications," said Jeff Hebb, vice president of strategic marketing and applications, critical sensing and control at Advanced Energy. "The TEGAM 720A is ideal for use in potentially hazardous environments, while the TEGAM 730A enables wireless data logging to industrial control systems. Overall, these new bond meters offer our customers an unmatched combination of convenience, flexibility and performance for their critical applications."

Advanced Energy will be showcasing the TEGAM 720A and TEGAM 730A bond meters at booth 116 at AUTOTESTCON 2022, which takes place August 29 – September 1 at the Gaylord National Resort and Convention Center in National Harbor, MD.

For detailed product features, technical specifications, pricing and purchasing information, visit the TEGAM 720A and TEGAM 730A product pages.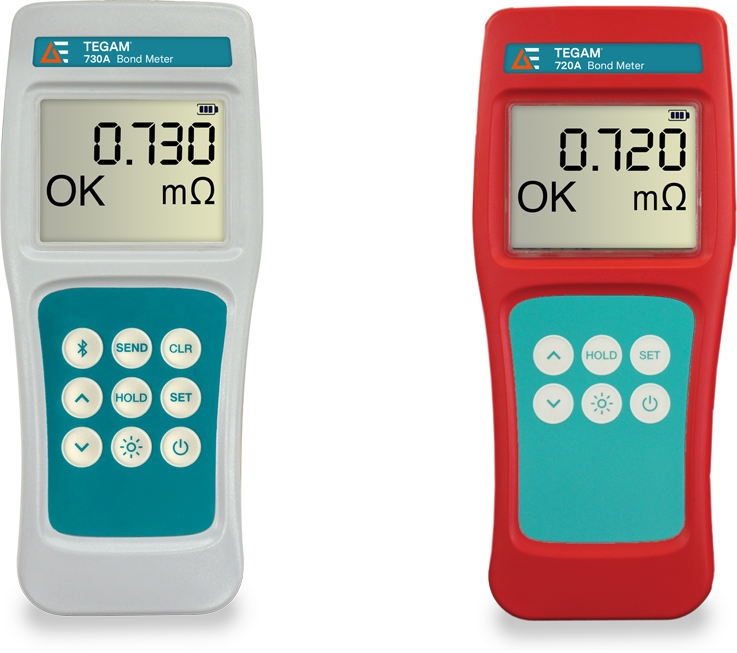 Über Advanced Energy
Advanced Energy Industries, Inc. (Nasdaq: AEIS) ist ein weltweit führendes Unternehmen in der Entwicklung und Herstellung von hochentwickelten, präzisen Energieumwandlungs-, Mess- und Steuerungslösungen für unternehmenskritische Anwendungen und Prozesse. Die Energielösungen von Advanced Energy ermöglichen den Kunden Innovationen in komplexen Anwendungen für ein breites Spektrum von Branchen, darunter Halbleiterausrüstung, industrielle Produktion, Medizin und Biowissenschaften, Datencenter, Netzwerke und Telekommunikation. Mit technischem Know-how und reaktionsschnellem Service und Support für Kunden auf der ganzen Welt baut das Unternehmen Kooperationspartnerschaften auf, um dem technologischen Fortschritt gerecht zu werden, das Wachstum seiner Kunden voranzutreiben und die Zukunft der Energieversorgung innovativ zu gestalten. Advanced Energy widmet sich seit vier Jahrzehnten der Perfektionierung der Energieversorgung. Der Hauptsitz des Unternehmens befindet sich in Denver, Colorado, USA.
Weitere Informationen finden Sie unter
www.advancedenergy.com.
Advanced Energy | Precision. Kraft. Leistung. Vertrauen
Tragen Sie sich in unsere Mailingliste ein
Abonnieren