Q&A: How Advanced Energy's Customer Solutions Lab is Innovating the Future of Thin Films
Veröffentlicht

Oktober 08, 2020

von

Uwe Krause

Advanced Energy's Customer Solutions Lab opened in the fall of 2019, establishing a new resource for our customers to explore new thin-film innovations without disrupting production timelines while offering greater flexibility for R&D. Our state-of-the-art Customer Solutions Lab, located near Frankfurt, Germany, was established to perform research, development, and customer product demonstrations for plasma/vacuum-based equipment and thin-film deposition/ characterization training – all aimed at driving the thin-film industry forward and better serving the needs of our global customers. The Lab has an in-line coater and, now, a custom drum coater, both aimed at industry research and development. Additionally, the Lab hosts onsite metrology for electrical and optical properties as well as temperature measurement.

We've tested our own processes to prepare the facility for customers, but we have yet to talk about the reasons why now is the time for us to launch this resource, who is onsite, and what you can accomplish.

So, we sat down with Uwe Krause, Manager, Field Application Engineering EMEA, and Dave McAninch, Director of Marketing, Thin Films, to get the background – who, what, when, and why – on the Customer Solutions Lab.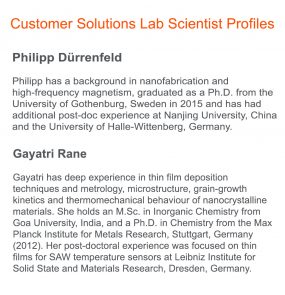 Q: Let's start with the two principal scientists staffing the lab. Why are Gayatri Rane and Philipp Dürrenfeld onsite?
A: Uwe – We've purposely staffed the lab with scientists who have exceptional qualifications and experience as independent researchers, instead of in commercial environments. By bringing in people with strong academic backgrounds and steeped in the scientific method, we aim to establish an unbiased approach to real-world problems.
Dave – A couple of those real-world problems will deal with work on increasing deposition rate without increasing substrate heat load or utilizing new deposition materials and substrates like silicon carbide (SiC) or plastics, as well as testing new target materials including ceramics. Gayatri and Philipp are expert scientists who can help our customers address these challenges.
Q: Why did Advanced Energy open the Customer Solutions Lab?
A: Dave – As customers develop more complex and advanced films, we want to create an environment where we can work with them to help develop these technologies. The lab gives us a place where we can do R&D, and our customers can experiment with power configurations that they might not otherwise have easy access to.
Uwe – We can also provide training and introduce them to the newest technologies not only for power supplies but pyrometry and other data analysis solutions, like PowerInsight by Advanced EnergyTM. Two other important reasons are that we can explore their evolving needs and offer insight into what capabilities the next generation of power supplies can provide. So, it's not just about R&D, it's about developing complete tools that deliver useful, measurable advances for customers.
Q: What kinds of customers, in terms of depth of process knowledge, is the lab designed for?
A: Dave – All levels. We plan to host customers who are new to this area and need help with fundamentals – what a tool looks like and what a power supply can do for them. Then, there's the other end of the spectrum, customers who aim to develop proprietary processes. Of course, we're committed to confidentiality and protecting their intellectual property.
Q: Why is it important to have a facility to work in that is separate from customer locations?
A: Uwe – Different power configurations potentially offer advantages, but customers usually only have access to machines used in production. Reconfiguring is impractical, and it's very costly regarding downtime and associated productivity loss. That's not the case with the lab. We have configured our machines for flexibility, so customers can test new techniques and build a rationale justifying a production version with their own chambers.
Q: Why is now the time for Advanced Energy to invest in the lab?
A: Dave – Considering the complexity of thin-films today and the emerging films needs of tomorrow, we see growing needs from our customers who want to collaborate with AE in the development of more advanced thin-film processes. We believe it's an ideal time for us to create a new facility where we can work side-by-side with our customers to help develop these new capabilities.
Uwe – With the equipment and analytical capabilities in the lab, the data we see here can serve as a reference during production. So, in addition to the business case rationale, customers can compare the data they see during fabrication and tune their processes to reach the uniformity, heat management, and repeatability achieved in the lab. That's actionable, reliable performance data.
Q: To date, what has been accomplished, and what are the goals for the lab now and 3 to 5 years from now?
A: Dave – The lab has been in operation for about ten months. It has been "wrung out" in what we call Phase 1, where we have tested and calibrated equipment to verify getting reliable data. We are now in the phase where we are evolving our knowledge and have the ability to show customers the implication of power configurations that, until now, there was little available data for.
We have added a drum-style coater, so now we have both an in-line and drum coater for the different kinds of processes our customers run. We continue to build out the capabilities while evolving the science of power configuration.
Uwe – We have run many tests on Dynamic Reverse Pulsing (DRP) and can show the effects of various power configurations on film characteristics and quality. You can get a full account of work we've done in which we showed DRP enabling higher deposition rates at lower temperatures compared to bi-polar sputtering in this blog post from April 2020.
Of course, simply getting customers into the lab is a priority. Unfortunately, COVID-19 has caused a roadblock and we will not be able to host visitors until it is safe for everyone.
Think You Have a Challenge for Us? We're Ready to Be Part of the Solution.
Are you anxious to begin working on moving new deposition processes from concept to production? Curious about when your team can access the lab? Please keep watch for details on when we will be able to welcome you to the Customer Solutions Lab. In the meantime, we will continue exploring and reporting on results.
To learn more, email us at solutionslab@aei.com.
Uwe Krause
Advanced Energy
Verwandte Beiträge