Precision Power Solutions at the 2022 OCP Global Summit
Veröffentlicht

September 30, 2022

von

Brian Korn

From October 18 to 20 at the San Jose McEnery Convention Center, the Open Compute Project (OCP) Global Summit will see the largest gathering of technologists looking to apply the benefits of open source and open collaboration to hardware and software and rapidly increase the pace of innovation in, near and around the data center and beyond.

As the "Empowering Open" theme implies, much of this year's event will focus on how to optimize and maximize the technical and commercial benefits of interoperability and the sharing of technologies through collaboration. However, in light of recent events that have seen dramatic increases in global energy costs and have thrown into sharp relief the impact that greenhouse gas can have on our climate, there will inevitably be a great deal of discussion on how to maximize data center efficiency to keep both OPEX and carbon emissions to a minimum - even as the need for data center services grows and higher performance processors and accelerators demand more power.
Improved Rack Power Efficiency
The requirement for greater efficiency is one reason for the transition of server and storage racks to 48 V architectures, an area that the OCP is very actively involved in. Requiring four times less current and operating with sixteen times lower distribution losses compared to conventional 12 V power schemes, 48 V ensures improved thermal performance, smaller busbars and increased efficiency of the complete rack. In line with these requirements and its theme of 'Precision Power Solutions,' Advanced Energy will be using the OCP Global Summit to showcase its Artesyn® family of ORv3-compliant 48 V solutions for rack power and battery back-up. These include power shelves with hot swappable PSUs that operate with efficiencies close to 98%.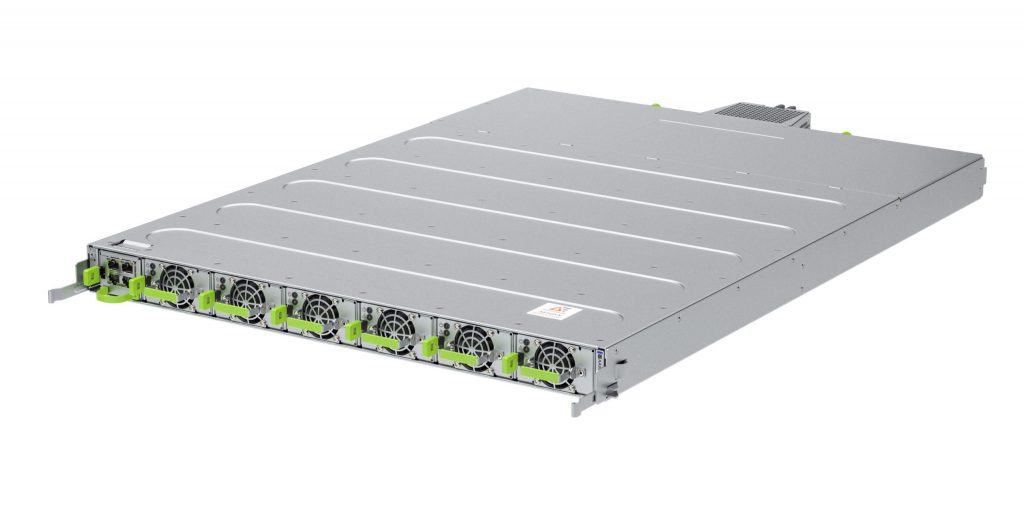 Also, on show at this year's event will be the Artesyn CSU1300ADC 1300W DC-DC power supply that operates with a with a peak efficiency of 94%. As this rack-mounted PSU is supplied in the CRPS (common redundant power supply) form factor of 1U x 73.5 x 185 mm, it gives data center architects and operators the flexibility of improving system efficiency without costly rack re-design.
Efficiency at the Board Level
But efficiency isn't just important at the rack level – it is fundamental to every power conversion process in the servers, communications and storage equipment deployed in the modern data center. As the latest, higher power, high-performance processors and accelerators are rolled out, for example, there is an increasing need for high-efficiency, high-power-density point-of-load (PoL) DC-DC converters such as Advanced Energy's board-mounted Artesyn LGA110D.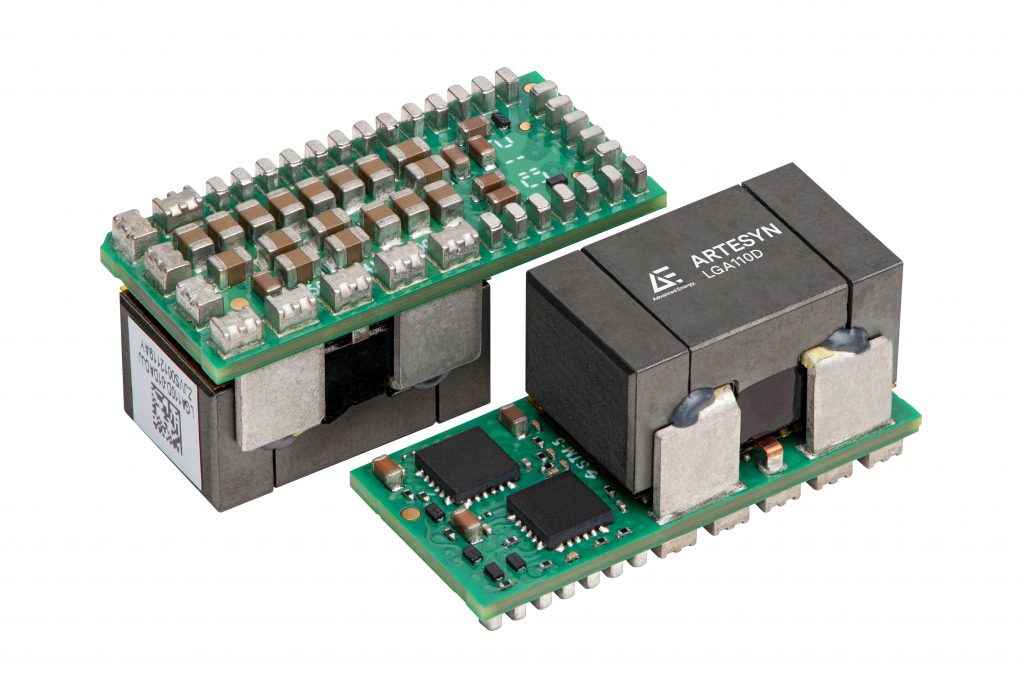 The LGA110D is a 110 A-rated DC-DC converter that operates with efficiencies up to 96% and provides a higher power conversion density than any digitally-controlled Point-of-Load converter in its class. In addition to its superior current density of 220 amps per square inch, the LGA110D features two independently controlled 55 A/175 W outputs, which means fewer power converters are needed in multiple channel or high current applications. The dual outputs can be selected as completely independent, configured to a single output or synchronized with up to four LGA110D converters for truly flexible design combinations. This frees up PCB space and reduces overall system cost while addressing the increasing current requirements in FPGA or ASIC devices used in complex, demanding applications.
Advanced Energy at the OCP Global Summit 2022
As well as showcasing a variety of technologies during the Expo – including an OCP Rack demonstration featuring 12 V and 48 V power shelves, BBU shelves and custom-made adaptors - Advanced Energy will be further exploring the efficiency theme in one of the technical sessions. Harry Soin, the company's senior director of technical marketing for hyperscale data centers, will be participating in a session taking place at the San Jose Convention Center, Concourse Level 220B at 9:40 AM PST on October 20. During the technical presentation, AE will look at how current and future developments in ORv3 power supplies, power shelves and shelf controllers can help to increase rack payload and power density while improving power factor correction (PFC), total harmonic distortion (THD), battery back-up (BBU) transitions and effective power supply monitoring and control.
As a long-term partner and key contributor to the OCP, Advanced Energy is once again looking forward to the Global Summit and the opportunity to meet the system architects, engineers and business leaders who are addressing the challenges of delivering advanced compute, storage, and network performance in the most efficient way possible. If that sounds like something you should be involved in, you can register for the Summit here.
We look forward to seeing you in San Jose!
Brian Korn
Advanced Energy
Brian Korn serves as vice president of data center computing at Advanced Energy. In his role, he is responsible for the company's embedded power business for data center computing, hyperscale, telecom and network products.
Mehr Beiträge von Brian Korn
Verwandte Beiträge