ORv3, Sustainability, Cooling, Modularity & Integration: Observations from the OCP Global Summit 2022
Veröffentlicht

November 17, 2022

von

Edwin Mok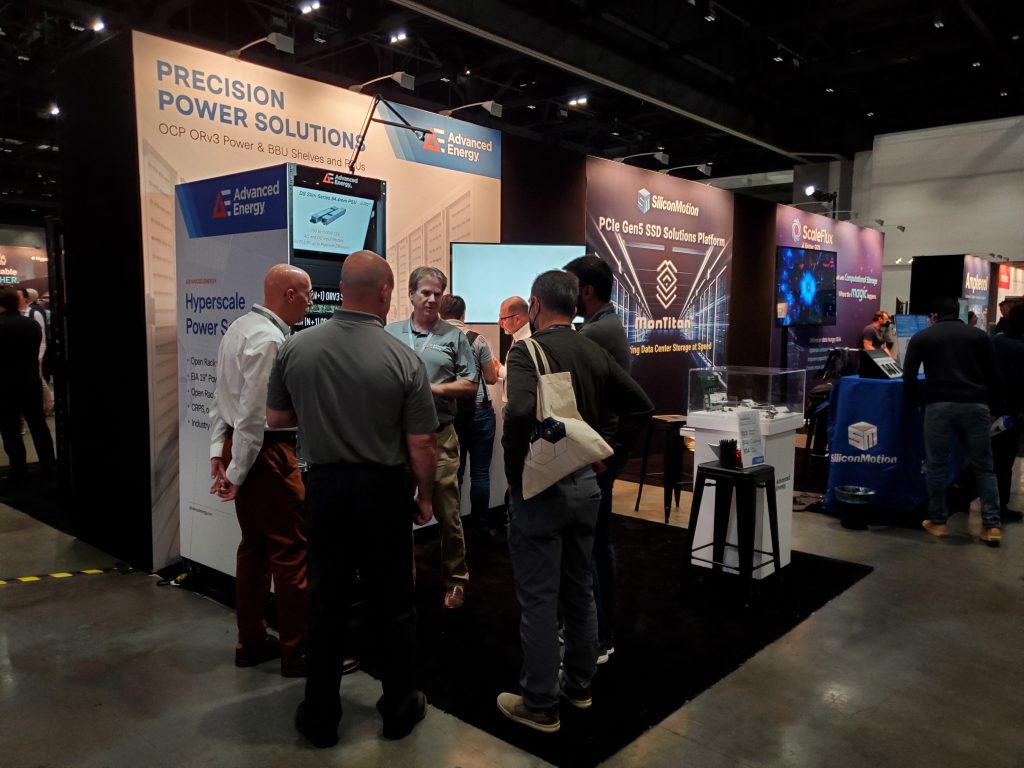 The Open Compute Project Foundation (OCP) holds regular events that allow individuals and organizations involved in the IT and data center sector to come together and share ideas, IP and solutions that support the ongoing evolution of the industry.
As a long-term contributor to OCP, Advanced Energy attended the most recent OCP Global Summit in San Jose, California, in October. Here I share some of my observations and insights from this year's Summit.

ORv3 is Ready for Prime Time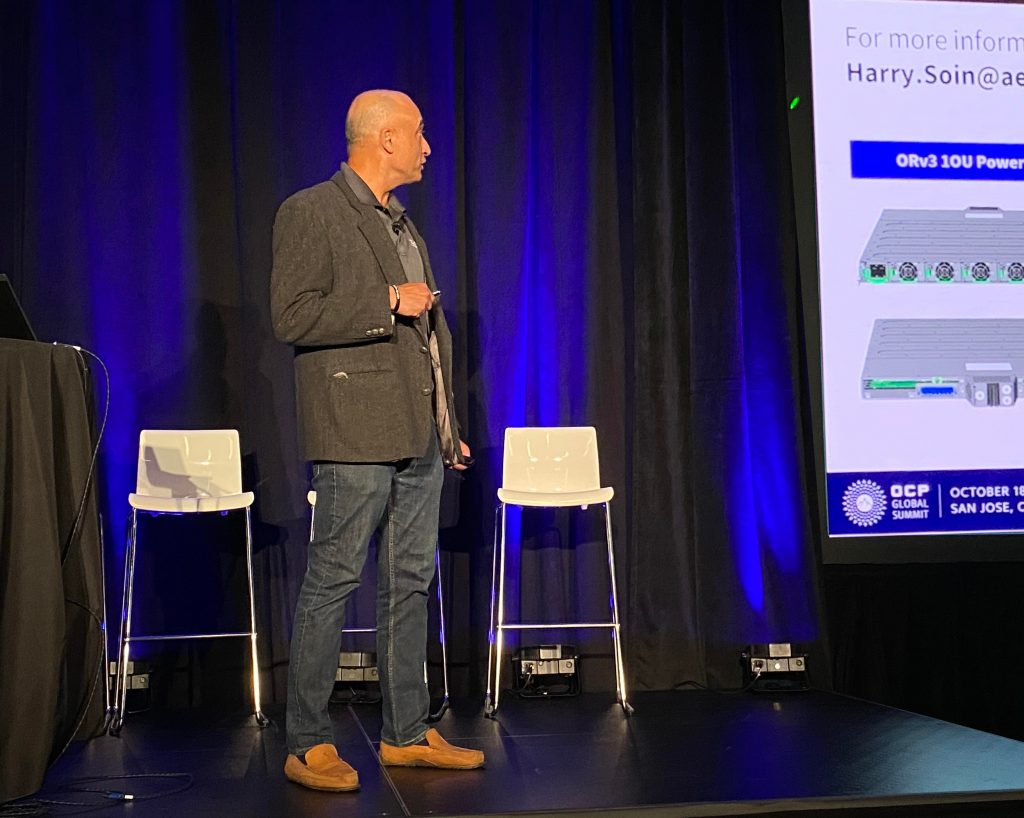 As part of AE's attendance, Harry Soin, AE's senior director of technical marketing for hyperscale data centers, took part in several presentations and discussion sessions that highlight some of the latest developments in ORv3 rack and power. Indeed, one of the key takeaways from the latest Summit was that, while many companies have been working on various compliant products for some time, ORv3 is finally ready for 'prime time.'
Meta, for example, chose the event to officially announce the new standard. During the conference, we saw increased interest in this standard – not only from the traditional large hyperscale players but a wide range of companies looking to adopt ORv3 in their data center infrastructure.
The ORv3 standard comes with many benefits, including the transition to a 48 V architecture that makes racks more efficient than traditional 12 V deployments. Advanced Energy has been leading the industry's transition to 48 V architectures with multiple solutions to enable customers to adopt ORv3, including ORv3-compliant power shelves, battery back-up (BBU) charging/dis-charging modules, power management controllers and power converters.
Based on the interest in our ORv3-compliant products at this year's OCP Summit, I believe 2023 will be the year of adoption for ORv3 across the industry.
Sustainability is More Than Just a Buzz Word
This year, I attended more presentations on sustainability than in previous years, highlighting the increased need to invest in more sustainable solutions. This is important as data centers consume large amounts of water and other natural resources and are significant users of power, as research from market research firm Statista illustrates.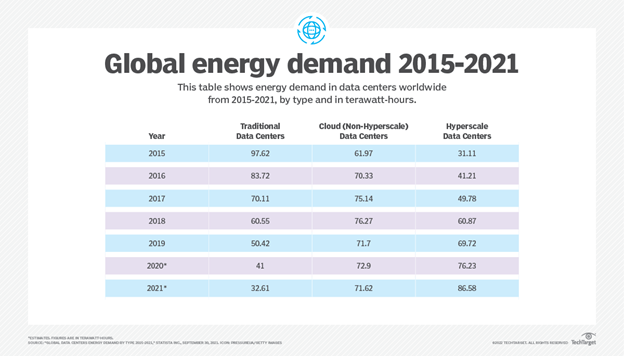 This year, the OCP Foundation announced sustainability as a new top-level project and as the 5th Tenet to ensure that work across all OCP Projects focus on sustainability as a core action that is designed in from the start.
In data centers, energy consumption is an important KPI and the industry has continued to improve the power usage effectiveness (PUE) of IT infrastructure. Advanced Energy has played its part in this journey, leading the industry with increasingly more efficient power supplies (reaching above 97% in our latest generation) and creating new solutions (such as our 48 V power shelf) that reduce energy waste.
But more needs to be done as the industry looks for other ways to become more sustainable and reduce its impact on the global climate. Over the longer term, AE will continue to support the industry by developing more solutions that can limit or reduce the environmental impact of data center infrastructure.
Less Immersion Cooling, More Liquid Cooling
As server power level continues to increase to address the needs of more power-intensive AI processing, traditional air-cooled server racks have started to reach their limits. In recent years, we have seen an increased focus on developing immersion cooling solutions in which servers are submerged in a cooling liquid bath or in a two-phase immersion cooling unit to increase heat extraction from the high-power devices in servers.
However, at this year's OCP, we saw rising numbers of liquid cooling solutions that use cold plates on high power devices or even on an entire server. Liquid cooling is generally viewed as a more practical solution than immersion cooling as rack power moves beyond 50 kW. A server rack can be designed with a combination of liquid and air cooling depending on individual server needs and the implementation is generally simpler than immersion cooling. This approach also addresses concerns over the long-term impact of the coolant on server hardware.
While immersion cooling will have its long-term place in data centers - particularly as server rack power approaches 100 kW or more - liquid cooling will see increased adoption as air cooling reaches its limits. As the industry continues to develop both liquid and immersion cooling solutions for higher rack power, Advanced Energy is actively working with various partners to enable these transitions.
Modularity vs. Full Integration
This year's OCP Summit saw competing views on how servers will evolve. Intel presented its modular server architecture - the OCP DC-MHS (Data Center Modular Hardware Solutions) - claiming that this is the way to go forward in hyperscale. On the other hand, Meta announced its next generation Grand Teton server with an increased degree of integration of multiple subsystems into a single unit.
I believe the industry will continue to bifurcate and accommodate both standardized, modular servers and fully-integrated custom server systems. It makes sense for general-purpose servers to be more modular to enable interoperability, while purpose-built, high-end servers will integrate more subsystems to maximize performance.
Advanced Energy has a full suite of M-CRPS-based power supplies that will meet various modular server architectures. At the same time, we are known in the industry for developing the most advanced customized power solutions to power any of our customers' fully-integrated server designs.
Other Themes
At this year's OCP Global Summit, there was a wide variety of presentations, talks and forums. These included engineering workshops and Executive and Expo Hall talks on topics ranging from the need to support scalability at speed without compromising performance or sustainability, the infrastructure needed for large-scale AI, opportunities for open innovation ecosystems, industry collaboration and the OCP's SONiC hardware-software co-design strategy. With the release of CXL 3.0 specification in August, there were also many exciting presentations on finally enabling rack-level memory pooling and coherent memory sharing, which could substantially improve memory usage efficiency in servers.
In addition, the Summit also featured the OCP Future Technologies Symposium. Here attendees heard from a range of specialists in industry and academia on topics such as networking, high-performance computing, data center efficiency, computing systems (servers, storage equipment and switches) and sustainable data center solutions.
Edwin Mok
Advanced Energy
Edwin is Vice President of Strategic Marketing at Advanced Energy, responsible for marketing strategy, market and industry analysis, as well as investor relations. He has over 25 years of experience and has held leadership positions in marketing, market research, product management and engineering.
Mehr Beiträge von Edwin Mok
Verwandte Beiträge