Advanced Energy Secures Multiple Business Wins in the Oil and Gas Industry for its FlareSpection™ Flare Monitoring System
Veröffentlicht

Januar 05, 2022

DENVER, Colo., January 5, 2022 — Advanced Energy (Nasdaq: AEIS) – a global leader in highly engineered, precision power conversion, measurement and control solutions – announced that the company has secured multiple wins in the global petrochemical industry for its FlareSpection™ flare monitoring system. FlareSpection offers the highest-resolution image quality and system robustness, and provides 24/7 automated, real-time pilot flame and flare monitoring required for safety, environmental protection and regulatory compliance in gas plants, oil refineries and chemical plants.

The E2T FlareSpection family of flare monitoring solutions assists oil and gas companies in gaining a clear understanding of their emissions to transition towards a low-carbon industry.

FlareSpection's feature-rich system software brings Industry 4.0 capabilities with real-time reporting, image, event and alarm logs for data analysis, automated alarms with user-defined parameters, image recording to review historical events and easy integration with plant Distributed Control System (DCS). This customizable platform allows users to track progress in reductions over time, which is the first building block towards the Net Zero initiative. In fact, 70% of the sector's CFOs are already making ESG (environmental, social and governance) data coordination across their organization a priority.

Leveraging over 50 years of thermal imaging experience, FlareSpection is designed for applications requiring simultaneous, remote, continuous and automatic monitoring of multiple pilot flames and/or multiple flares. The system's 640 x 480-pixel thermal imaging camera and high-resolution optics render the industry's best pilot flame and flare image quality, which translates to reliable performance even when positioned hundreds of meters away from the target. With this enhanced visibility, plant operators are equipped to operate the system safely from a convenient ground mounting location.

"As regulatory pressure to monitor flares increases, so does the need for dependable pilot and flare monitoring. FlareSpection directly addresses the most critical operational issues of a petrochemical plant such as safety, environmental protection, regulatory compliance and maintenance costs," said Jeff Hebb, Vice President of Marketing, Critical Sensing and Control at Advanced Energy. "Building on Advanced Energy's robust portfolio of temperature measurement systems with a petrochemical installed base of several thousand units worldwide, FlareSpection provides best-in-class performance even in the harshest environments and most complex flaring systems."

Pilot flames are traditionally monitored with thermocouples, which are prone to failing unexpectedly due to thermal shock during flaring events. Generally, faulty thermocouples can only be replaced during a complete plant shutdown. FlareSpection installed in parallel with thermocouples provides remote system redundancy for pilot monitoring, which allows a plant to continue to operate by providing crucial pilot flame information to the plant's DCS.

Created with specifically engineered spectral ranges, calibrations and the highest-resolution optics, FlareSpection enables uninterrupted monitoring through harsh environments including dust, heavy rain, snow and fog from a distance of up to 300 m. The camera is protected in a weather-proof, ATEX-certified stainless-steel enclosure with an integrated sight tube to prevent dust and dirt on the window. This permits long-term use with minimal upkeep, which is in steep contrast to the maintenance often associated with thermocouple technology. FlareSpection's latest explosion-proof housing (ATEX, IECEx certified) adds another layer of reliability when the system is installed in a hazardous area.

Product details and technical specifications for FlareSpection are available on the product webpage.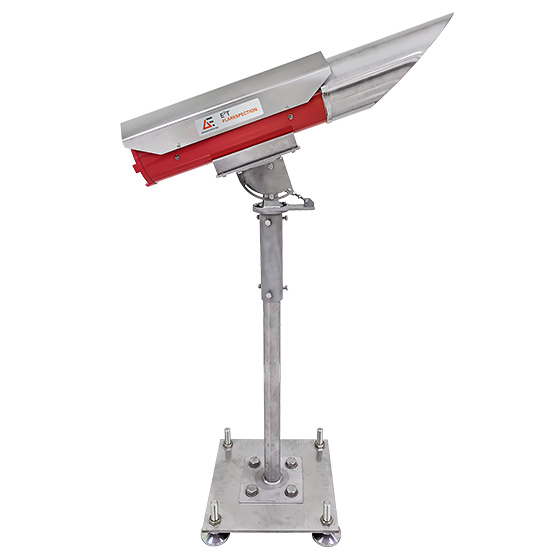 Über Advanced Energy
Advanced Energy Industries, Inc. (Nasdaq: AEIS) ist ein weltweit führendes Unternehmen in der Entwicklung und Herstellung von hochentwickelten, präzisen Energieumwandlungs-, Mess- und Steuerungslösungen für unternehmenskritische Anwendungen und Prozesse. Die Energielösungen von Advanced Energy ermöglichen den Kunden Innovationen in komplexen Anwendungen für ein breites Spektrum von Branchen, darunter Halbleiterausrüstung, industrielle Produktion, Medizin und Biowissenschaften, Datencenter, Netzwerke und Telekommunikation. Mit technischem Know-how und reaktionsschnellem Service und Support für Kunden auf der ganzen Welt baut das Unternehmen Kooperationspartnerschaften auf, um dem technologischen Fortschritt gerecht zu werden, das Wachstum seiner Kunden voranzutreiben und die Zukunft der Energieversorgung innovativ zu gestalten. Advanced Energy widmet sich seit vier Jahrzehnten der Perfektionierung der Energieversorgung. Der Hauptsitz des Unternehmens befindet sich in Denver, Colorado, USA.
Weitere Informationen finden Sie unter
www.advancedenergy.com.
Advanced Energy | Precision. Kraft. Leistung. Vertrauen
Tragen Sie sich in unsere Mailingliste ein
Abonnieren