Precise Power Control and Unmatched Reliability with the New MAXstream RPS
Veröffentlicht

Dezember 10, 2020

von

Thomas Gubiotti

I'm pleased to update you on the release of Advanced Energy's new line of MAXstreamTM remote plasma source (RPS) systems. MAXstream RPS is a huge leap forward, and leverages AE's plasma power and RPS product experience, providing customers with more precise power control and improved design flexibility while maintaining industry-leading reliability.

RPS chamber cleaning is an essential part of the chemical vapor deposition (CVD) process in semiconductor manufacturing. During CVD film deposition on the wafer, film residue deposits build up on the inside walls of the process chamber and can impact the wafer deposition process itself. RPS systems allow customers to perform periodic inline cleaning of the CVD chamber to maintain process stability and cleanliness. The RPS system uses a Radio Frequency (RF) generated plasma to dissociate gases, such as NF3, to clean the chamber. The fluorine radicals generated by the RPS system flow into the CVD chamber, reacting with residue on the chamber walls to form a gaseous product, which is then pumped away in the exhaust to the abatement system. This process effectively cleans the chamber walls and ensures the on-wafer CVD deposition does not drift due to changing chamber conditions.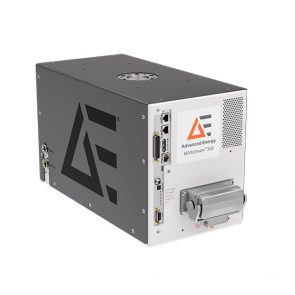 Advanced Energy's MAXstream 300 Remote Plasma Source
Customer feedback by both OEM CVD manufacturers and the end-users of CVD tools drove the development of AE's MAXstream. Customers identified RPS reliability and lifetime as critically important factors to them; after all, fabs only make money when their process tools are running. To this end, AE designed MAXstream RPS to be the longest life, most reliable RPS system available on the market. The MAXstream chamber uses a proprietary aluminum formulation with type III hard coat anodization, providing a longer chamber lifetime than alternative designs. MAXstream also uses a sophisticated chamber wall cooling system that minimizes thermal gradients which can cause chamber coating degradation. When MAXstream does need service, customers have access to Advanced Energy's best-in-class global service and support network, with over a dozen local service centers for fast, experienced assistance.
Beyond reliability, MAXstream offers a leap forward in cleaning performance. All MAXstream flow and power ranges provide industry-leading 2% power accuracy and a unique dual-ignition system that ensures consistent plasma ignition. Customers have also told us that it is important to have an easy way to incorporate MAXstream into their new and existing process tools, so AE designed MAXstream to have dimensional and utility hookup compatibility with existing RPS products in the market. This form factor provides OEMs and end-users an easy, drop-in way to upgrade their RPS to MAXstream's reliability and improved performance, without requiring redesign or replumbing of the CVD tool.
The complete product line consists of the MAXstream 300, 600, 800, 1000, and 1200 systems. The MAXstream 600 to 1200 serve the higher-flow RPS market, with NF3 flow rates of 6 to 12 slpm. The MAXstream 300 is a smaller form factor tool that can provide up to 3 slpm of NF3 flow for customers who need a more compact, lower cost-of-ownership solution for low flow applications. AE is now shipping MAXstream evaluation systems to our OEM customers, with general availability scheduled in the first quarter of 2021.
Thomas Gubiotti
Advanced Energy
Thomas Gubiotti is a Senior Product Manager at Advanced Energy. He has a background in engineering and marketing for semiconductor equipment, thin film metrology, and lithography. Prior to AE, he worked in the semiconductor equipment industry and at a startup developing electrochromic architectural smart glass.
Mehr Beiträge von Thomas Gubiotti
Verwandte Beiträge