Thailand Groundbreaking for AE's Largest and Most Advanced Factory
Veröffentlicht

Oktober 18, 2023

von

Eduardo Bernal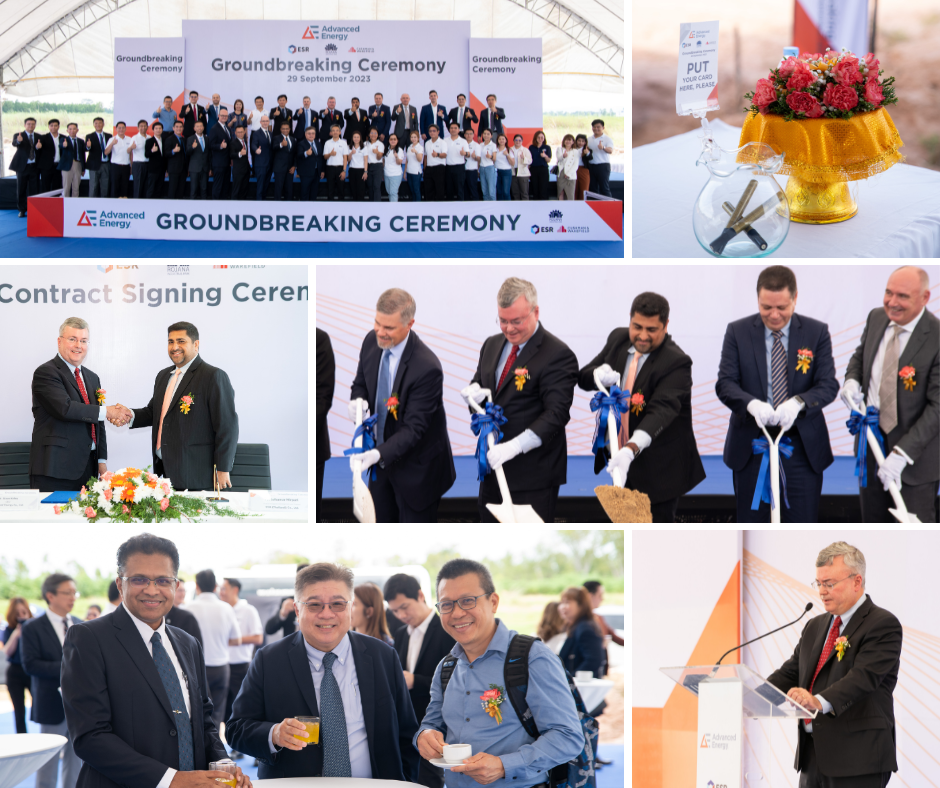 Meeting customers' future requirements requires innovative technologies, advanced production techniques and a strong and flexible supply base. Advanced Energy's new flagship, greenfield factory in Thailand will expand AEs global manufacturing capabilities and capacity to address these demands.
As a leading high-mix, low-volume manufacturer of precision power, measurement, and control products, Advanced Energy's business has been built on developing highly engineered, differentiated precision solutions for complex industrial applications. However, leading-edge technology is only one part of the story in meeting customer needs.
In the past two years, AE received recognition from our customers, including our steep-ramping semiconductor equipment customers, for our execution, capacity expansion capabilities, secure component sourcing and overall operational performance. This acknowledgment underscores the progress we've made. Now, as AE embarks on the next phase of its strategy to deliver a competitive advantage through best-in-class manufacturing, we are establishing a new manufacturing facility on the Laem Chabang industrial estate near Bangkok in Thailand. The COVID pandemic, natural disasters, and a host of other global events have only underscored the importance of supporting advanced technologies with robust and flexible worldwide supply chains and this new factory not only increases AE's operational capability, but it also enables business continuity and scalability.
Announced with a formal groundbreaking and contract signing ceremony last month, the new 500,000 sq ft flagship Thailand facility will be Advanced Energy's biggest and most advanced factory yet and will have an annual revenue generating capacity of over $1 billion. AE's Thailand factory will initially manufacture leading-edge power delivery systems for the semiconductor market. Over time, it will also produce products for industrial, medical, and information technology applications and have R&D capabilities for ramping AE's most advanced products.
During the groundbreaking and contract signing ceremony Steve Kelley, Advanced Energy's president and CEO, described the motivation for greenlighting the new facility, "our continued success is highly dependent on two things: technology leadership and best-in-class manufacturing. The expansion in Thailand is an important part of our long-term strategy to improve operational efficiency and flexibility."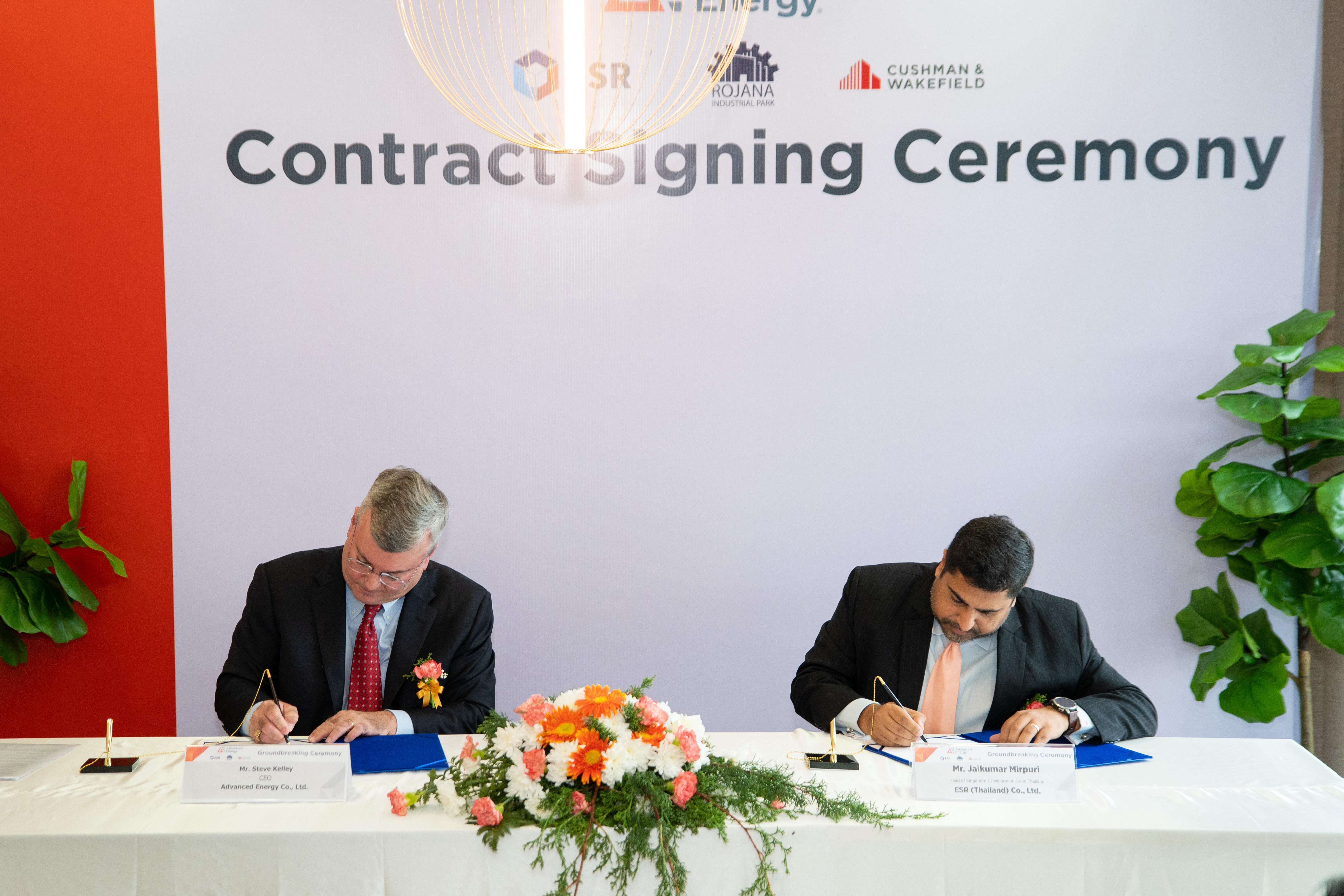 Steve Kelley signs the contract for the new, state-of-the-art manufacturing facility
Discussing the choice of Thailand as the cornerstone for the company's expanding factory network,

he added: "With its robust transportation network, an established regional ecosystem of suppliers and subcontractors, a skilled labor force and attractive regional incentives,
Rojana Laem Chabang, Thailand is the ideal location for our new flagship manufacturing facility."
The groundbreaking and contract signing ceremony was attended by members of Advanced Energy's senior management and representatives from multiple AE customers, key suppliers, and local partners including from the

Laem Chabang industrial estate

.
A
t full production levels, the factory is expected to employ roughly 2,500 engineers, technicians and operators.
Eduardo Bernal
Advanced Energy
Eduardo Bernal joined Advanced Energy in September 2021 as executive vice president and chief operations officer. He is based in Singapore, the headquarters for the company's global operations.

Bernal has more than 30 years of experience managing global operations in the semiconductor industry and has successfully led large, complex, global organizations through phases of significant growth and transformation. He joined Advanced Energy from NXP Semiconductors, where he was senior vice president of assembly and test operations, responsible for a global footprint of multiple factories with a team of 12,000 employees. Prior to this, Bernal was with Texas Instruments, where he held various leadership roles in operations, manufacturing, planning, and quality.

Bernal holds a Bachelor of Science degree in Industrial Engineering from the Technological Institute of Aguascalientes in Mexico, and is a graduate of the Leading Organization & Change program from the Massachusetts Institute of Technology.

Mehr Beiträge von Eduardo Bernal