Powering Every Stream, Click and Download
Everyday things – from shopping, communications to even dating – have been transformed by the digital revolution since the invention of the Internet more than fifty years ago. Now human beings can access nearly the sum of human knowledge from a device that fits in our pocket. In 2020, the amount of data created reached a new high with the rise of teleworking. The rapid adoption of connected devices and systems, known as the Internet of Things (IoT), further contributes to this explosion of data. According to the International Data Corporation (IDC), data generated from connected IoT devices will grow from 18.3 ZB in 2019 to 73.1 ZB in 2025 – an almost fourfold increase. To give a sense of the magnitude of data we generate, a zettabyte (ZB) is 1 with 21 zeros (and seven commas) behind it.
Cloud services form the backbone of this digital lifestyle – every stream, click and download fires up a server (or many) in physical data centers around the world. As data use climbs exponentially, the energy efficiency of data centers become a key priority.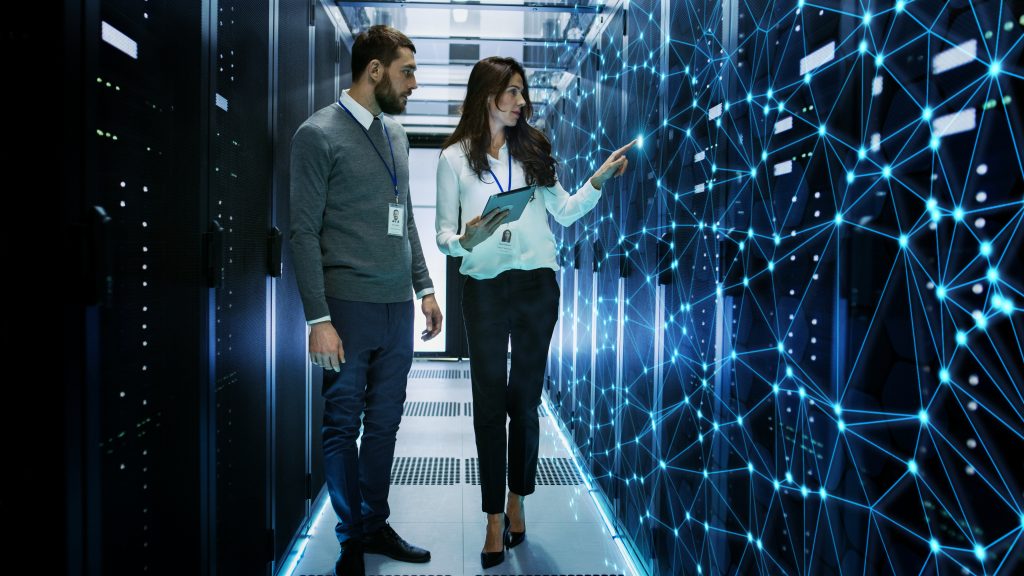 Data centers need a lot of power: they consume 10-50 times more energy per floor space than a typical commercial office building and account for 3% of world power consumption. As a global leader in highly efficient power supply solutions – and one of the first to demonstrate 97.5% efficiencies in its PSUs – Advanced Energy helps hyperscale and data center customers operate at peak capacity, minimize wasted resources and efficiently deliver IT infrastructure in their environment. Also, Advanced Energy's Artesyn product portfolio includes a best-in-class power density of 75 watts per cubic inch (W/in3), which enables customers to deploy more compute, storage and networking gear in their device and facility.
For example, consider a 10 MW facility with servers that consume 50% of the energy and a power usage effectiveness (PUE) of 1.6. A 2% increase in server PSU power efficiency boosts the PUE and leads to a 1.6% decrease in electricity use. That's 1.4 million kWh saved per year, or a $98,000 savings (assuming $0.07 per kWh). This energy consumption is equivalent to:

As we can see, minimizing power consumption at these power-hungry data centers not only translates to cost savings, but also reduced environmental impact. With sustainability at the heart of its strategy, Advanced Energy continues to develop leading-edge technologies such as innovative space-saving packaging techniques and miniaturization of assemblies that increase data center efficiency while reducing their environmental impact. Advanced Energy's Artesyn products comply with industry regulations including the European Union initiative ErP Lot 9, which specifies requirements for power efficiency and energy consumption in servers. Advanced Energy has over two decades of experience designing and building highly efficient power shelves that free up space and consolidate available power in data centers.
While data centers traditionally used 12 V power shelves, 48 V architecture has seen increased adoption as higher performance compute and storage platforms demand more power. With 4x less current and 16x lower distribution losses compared to 12 V, 48 V delivers better thermal performance, with smaller busbars and increased efficiency. Recognizing the benefits that can be achieved by 48 V architecture, Advanced Energy's Open Compute ORv3 (Open Rack v3) platform is a key enabler to the adoption of 48 V rack power for hyperscale data centers.
The demand for more efficient data centers continues to skyrocket, driven by trends like online collaboration, remote healthcare, Industry 4.0, Artificial Intelligence (AI) and machine learning, as well as the IoT. Rooted in over 40 years of leadership in power conversion, measurement and control, Advanced Energy's highly efficient power supply solutions enable these data centers to more efficiently process the massive amounts of data that support today and tomorrow's digital economy.
Brian Korn
Advanced Energy
Brian Korn serves as vice president of data center computing at Advanced Energy. In his role, he is responsible for the company's embedded power business for data center computing, hyperscale, telecom and network products.
더 많은 게시물 Brian Korn
관련 게시물