Designed specifically for the demands of hyperscale data centers—the enormous computing infrastructures of big data giants like Google, Amazon, Meta, IBM, and Microsoft—Advanced Energy's power products offer robust, scalable solutions. Our AC-DC and DC-DC front-end power supplies, along with rack system solutions, streamline deployment and facilitate swift scaling. Trust Advanced Energy for your data center power needs and experience the reliability, efficiency, and innovation of our solutions, designed to meet hyperscale data center demands. We're committed to providing the perfect fit for your cloud hyperscale data center needs.
Advanced Energy's Cutting-Edge Solutions for Hyperscale Data Centers
Advanced Energy's power product offerings provide unparalleled support for Hyperscale Data Centers, the backbone of today's big data-driven world. Our solutions enable simplified architectures for rapid deployment, delivering unmatched reliability and efficiency that keep these data centers operating at peak performance. Our portfolio of AC-DC and DC-DC front-end power supplies and Rack System solutions is specifically designed to meet the demanding needs of Hyperscale Data Centers, with a wide output power range and options for both 12 and 48 V output voltage. Our standard board-mounted power modules come in industry-standard form factors, making them widely used by OEMs and system integrators.
As a trusted partner of leading tech companies, including Google, Amazon, Meta, IBM, and Microsoft, we understand the critical role that power plays in the performance and success of hyperscale data centers. With our advanced power solutions, we help companies harness the full potential of their big data applications, driving innovation and pushing the boundaries of what is possible.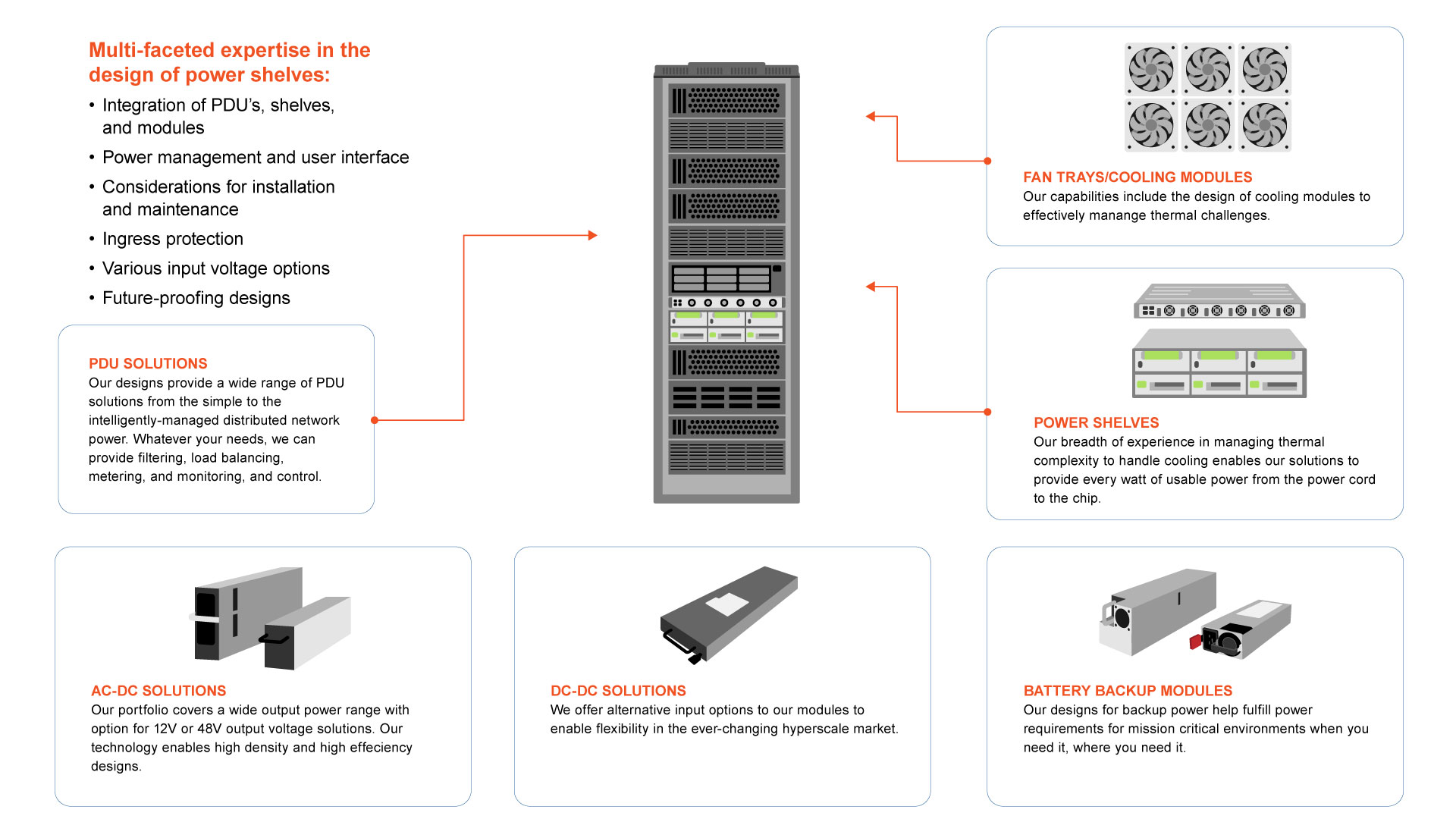 기술 동영상
Building PSUs for Power Density and Consumption
11 1, 2021
The higher power needs of next-generation processors are driving the demand for innovative power density solutions. Through Advanced Energy's global network of manufacturing partnerships, including top server manufacturers and major OEMs and ODMs, we've become one of the top-ranked suppliers of both custom and off-the-shelf products. Watch this video to learn more about Advanced Energy's CRPS product line, the path to titanium efficiency and power supplies up to 3000 watts, how our designs address challenges like system backpressure, and the benefits of working with Advanced Energy.