Manufacturing is in Our DNA
This is an exciting and momentous time for Advanced Energy. Headquartered in Denver, we are a $1.4B precision power delivery systems company, employing more than 10,000 people in over 55 locations. For over four decades we have built a robust ecosystem of design, service centers and advanced manufacturing facilities that span the U.S., Asia, and Europe, providing our customers with highly efficient and precise power conversion, measurement and control solutions.
AE is on an incredible journey. Over the years, we've expanded our business organically and through strategic acquisitions including Artesyn, Versatile Power, Excelsys, Trek, Monroe Electronics, Ultravolt and HiTek Power Group. To augment our core precision power business, we also acquired precision sensing and control companies including Sekidenko, LumaSense and TEGAM.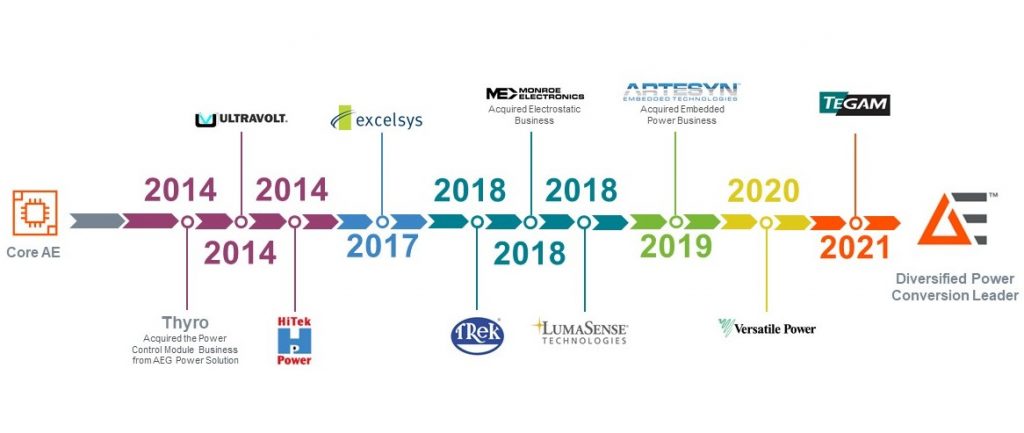 Today marks Manufacturing Day, an annual celebration which shines the spotlight on career opportunities in the manufacturing industry. At AE, we fill hundreds of skilled manufacturing jobs every year. We hire engineers, technicians, and operators to staff our 14 factories around the world.
AE is led by industry veterans with an impressive record of driving innovation and growth. Our key success factors include technology leadership, high quality, and customer intimacy. Ultimately, our objective is to provide highly engineered power delivery solutions which meet the needs of our customers. We have a reputation for engineering and operational excellence, and a strong history of innovation, including more than 450 patents.
Advanced Energy builds the vast majority of its products in-house. We believe in-house manufacturing is a strategic advantage, allowing us to deliver high-quality innovative products to our customers in a timely fashion. It also enables us to protect our proprietary technology and critical know-how.
As a leading manufacturer in the high-tech electronics space, we enthusiastically celebrate Manufacturing Day 2021.
Steve Kelley
Advanced Energy
A semiconductor industry leader with more than 30 years of experience, Steve Kelley joined Advanced Energy as president and chief executive officer in March 2021. In addition, he serves on the company's board of directors. A high-impact technology executive, Kelley is renowned for leading some of the world's largest global companies through financial growth and transformation.

Prior to Advanced Energy, Kelley served as president and chief executive officer of Amkor Technology, Inc., a leading semiconductor package and test company, leading its financial transformation by prioritizing strong revenue growth, efficiency gains, and a culture of continuous quality improvement. Kelley also held executive leadership roles at various semiconductor manufacturing companies including Cree, Texas Instruments, and Philips Semiconductors (now NXP Semiconductors), where he focused primarily on revenue growth through the timely development of new products and services.

Kelley holds a Bachelor of Science degree in chemical engineering from the Massachusetts Institute of Technology and a Juris Doctor (J.D.) from Santa Clara University.
더 많은 게시물 Steve Kelley
관련 게시물