The Next Leap: Powering Plasma for the Angstrom Era
Semiconductor manufacturing pushes the boundaries of process innovation to the nearly impossible. Reaching a new device node is the culmination of vision, technology and partnership. These leaps forward are enabled by both possibility and capability. Often, the difference between the impossible and the next node comes down to process equipment innovations that open wholly new windows of performance and functionality.
Complexity is spiraling upwards. Higher feature densities are leading to 3D structures and novel transistor architectures with dimensions on the atomic scale, measured in angstroms (10-10 meters). Altogether, this demands unprecedented process control. Advanced-node devices drive ambitions for innovative process equipment — including extraordinary power-delivery technologies — to expand the limits of the possible.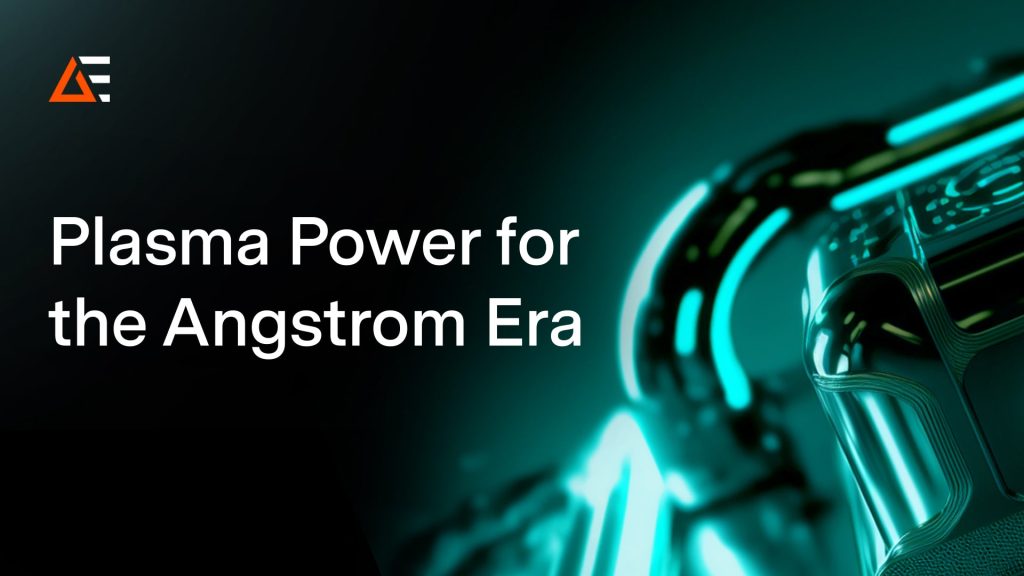 Radio frequency (RF) plasma power delivery systems have evolved to become highly sophisticated power control engines with ultrafast responsiveness — as different from earlier RF generators as a thoroughbred horse is from a donkey. High-speed, precise power delivery enables radical changes and industry inflections from chip-scale packaging through advanced front-end technologies including gate-all-around (GAA) transistors, backside power delivery (BPD) and the path to 3D DRAM.
As the semiconductor industry ventures into the Angstrom Era, plasma processes used to create these extraordinary devices require exceptional agility, complex pulsing sequences with near-instant tuning speeds, recipe-customizable control capabilities and, increasingly, direct control of the plasma ion energy that creates the devices.
Advanced Energy has been making impossible plasma processes possible for over 40 years. AE is once again leaping forward in plasma control by introducing transformational power delivery technologies to address the challenges of the Angstrom Era.
A History of Transformational Power-Delivery Solutions
The semiconductor industry has relied on AE's plasma power innovations to jump from micron to submicron to nanometers and now to angstrom-dimension devices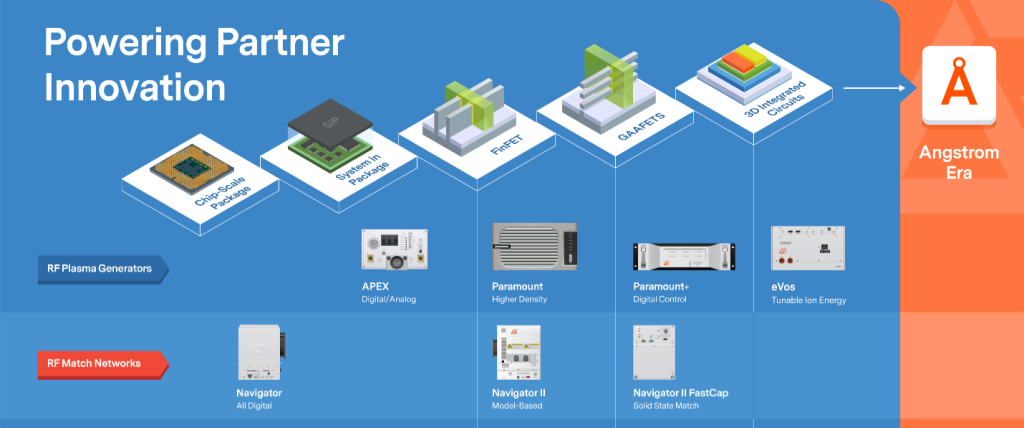 These innovations have been instrumental in supporting leading-edge plasma processes starting from the chip-scale era when all-digital Navigator® technology provided three to five times the match speed and unsurpassed RF metrology compared to competing products. The sophistication of AE power delivery and match technology grew across the next chip design nodes, providing increasing precision, power density, performance features such as pulsing, as well as faster response to abruptly changing plasma conditions. Advanced Energy's eVoS™ platform is an example of the kind of revolutionary power technology capabilities that change what's possible in plasma processing with its direct ion energy control. And there's more to come.
Leaping into the Angstrom Era
Process recipes are more complex than ever, with multiple steps as short as one second transitioning through very different plasma conditions — often without turning off power to the plasma. Nimble, reproducible, repeatable RF plasma power delivery is vital to manage the extreme swings in plasma impedance caused by frequent, abrupt and profound changes in gas flow, chemistry, pressure and power. In the most advanced deposition and etch processes, critical aspects include precise control of target-species energy and repeatability from wafer to wafer in highly non-linear plasma environments.
AE addresses these challenges with a leap ahead in plasma power control, providing the agility, stability and speed required to drive Angstrom-Era semiconductor applications. This new, forward-looking technology provides critical performance:
Speed of control within pulse profiles
Power overhead for reliable ignition
Waveform customization and control
Ion energy management via direct plasma sheath voltage control
Interconnected, coordinated operation of all power delivery components on complex plasma wafer processing equipment
IoT ecosystem: High-resolution, high-bandwidth data access and sophisticated analytics
Transcending the Impossible: Powering the Future
From its inception, the semiconductor industry has constantly pushed the physical limits of device dimensions, densities and speed. Continuing the march from nanometer to angstrom device dimensions will be a truly remarkable milestone. Evolutionary and revolutionary advances in process power will provide the drumbeat bringing this vision to fruition. Those at the forefront of plasma power delivery technology will be the primary enablers as the industry draws closer to once-impossible dimensions.
Preview AE's new, transformational power delivery technology, which will be available this summer.
Juergen Braun
Advanced Energy
Juergen Braun joined Advanced Energy in July 2007 and now serves as senior vice president of plasma power products. In his current role, Braun leads the plasma power and service business. Prior to his current role, he held several leadership positions within the company including vice president and general manager of the thin film group, general manager of the photonics group, and managing director of Advanced Energy's EMEA sales office. Braun brings over 20 years of experience in semiconductor manufacturing with a successful record of implementing strategic business plans, leading cross-functional international teams, as well as delivering revenue and market share growth. Braun holds a Diploma in chemistry from the University of Ulm, Baden-Württemberg, Germany, where he also completed his Ph.D. thesis on CVD growth of silicon and germanium on Si.
その他の投稿 Juergen Braun
関連記事