SEMICON West 2022: SEMI Goes Big; Chips Get Small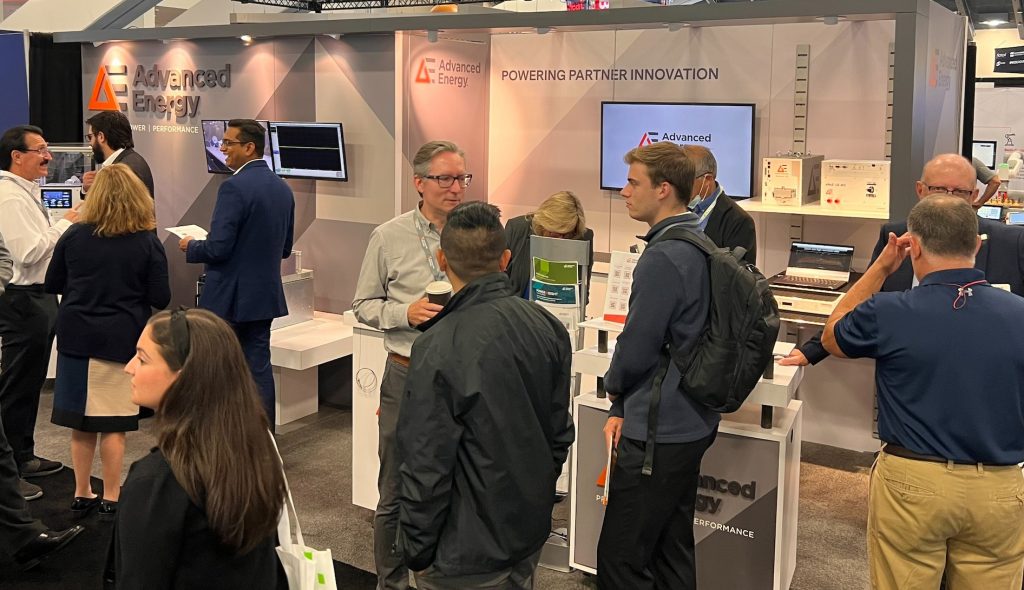 What was new this year at SEMICON® West? This July, semiconductor professionals gathered virtually and in person at the Moscone Convention Center to make connections, exchange ideas, and discover what's on the horizon for the industry. The ability to have face-to-face conversations, shake hands, interact with live demos, and see booths in three dimensions was a refreshing return to tradition. It was clear that everyone was glad to be back, and for me, the temperate climate of San Francisco was a reprieve from the heat of Colorado.
In past years, we mostly saw industry veterans at the show, but this year, our team at the booth spoke with several interns and new employees in purchasing, test engineering, and design engineering who were eager to learn. It was especially interesting to see the high level of interest in new opportunities in the semiconductor industry at the Workforce Development Pavilion, which provided one-on-one mentoring from semiconductor professionals to grow the talent pipeline.
Opportunities, Challenges, and Milestones: The Future of the Industry
One keynote at the SEMI® Market Symposium predicted that, driven by AI, the industry will surpass $1 trillion by 2030—but not without challenges. Current shortages are driving supply chain regionalization and vertical integration, while manufacturing regionalization offers the opportunity to implement basic improvements to sustainability, workforce talent, and supply base. Other topics of the symposium included the semiconductor technologies interacting with high-performance cloud computing, fab trends and forecasts, and global economic trends that will affect the future of the industry. Of course, shrinking feature sizes and new architectures are always hot topics as the industry sets its sights on Angstrom-level processing.
Additional forecasts from SEMI included:
14.7% rise in global sales of total semiconductor manufacturing equipment by OEMs to a record $117.5 billion in 2022, followed by an increase to $120.8 billion in 2023
15.4% expansion of the wafer fab equipment segment in 2022 to a new industry record of $101 billion, followed by a 3.2% increase to $104.3 billion in 2023
Taiwan, China, and Korea remaining the top three equipment buyers in 2022
Building on recent years, sustainability was a big topic throughout the week. As President Biden unveiled new executive actions to combat climate change, key leaders from top OEMs and end users underscored rapid technological developments with sustainability in mind.
Powering Partner Innovation: Advanced Energy at SEMICON West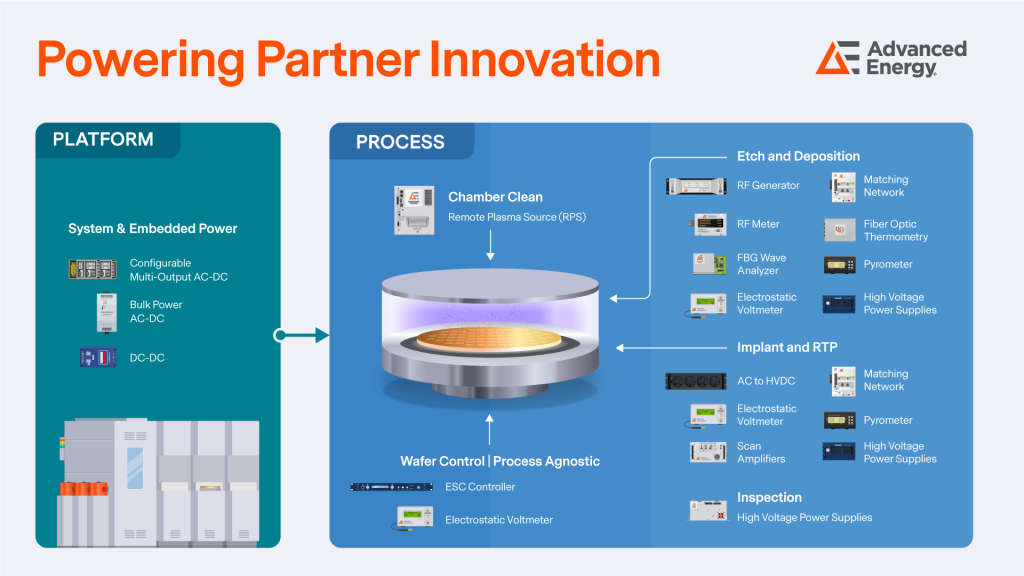 As the industry sets its sights on big financial growth, ever-smaller device geometries, and increased environmental stewardship, the Advanced Energy® team was excited to be back in person to share our pioneering approach to meeting today's semiconductor manufacturing requirements, solving the toughest customer challenges, and enabling technological development as we head toward Angstrom-level processing.
With that in mind, we presented solutions for the critical etching, deposition, inspection, implantation, and annealing processes that propel the industry into the future, displaying an expanded range of power and measurement solutions that maximize productivity for a variety of platform and process requirements. This included remote plasma sources, pulsed power supplies, AC/DC power supplies, RF generators, matching networks, amplifiers, and high-accuracy temperature-sensing modules.
Product Highlights
Our Plasma Power Generators Group featured:
The Ascent® SMS AP 10 kW pulsed-DC power supply, which delivers unprecedented plasma control in a compact solution for single-magnetron sputtering.
PowerInsight by Advanced Energy™ monitoring and analytics platform, which brings actionable intelligence and insights to critical power-delivery systems, allowing owners to maximize performance, improve yield, and increase throughput.
Our industrial specialists featured:
AE's new Luxtron® M-1100, a single solution that enables manufacturers to monitor and control processes across extended temperature ranges.
The software-driven Trek® 646 electrostatic chuck supply used in a variety of semiconductor processes to hold the wafer during processing.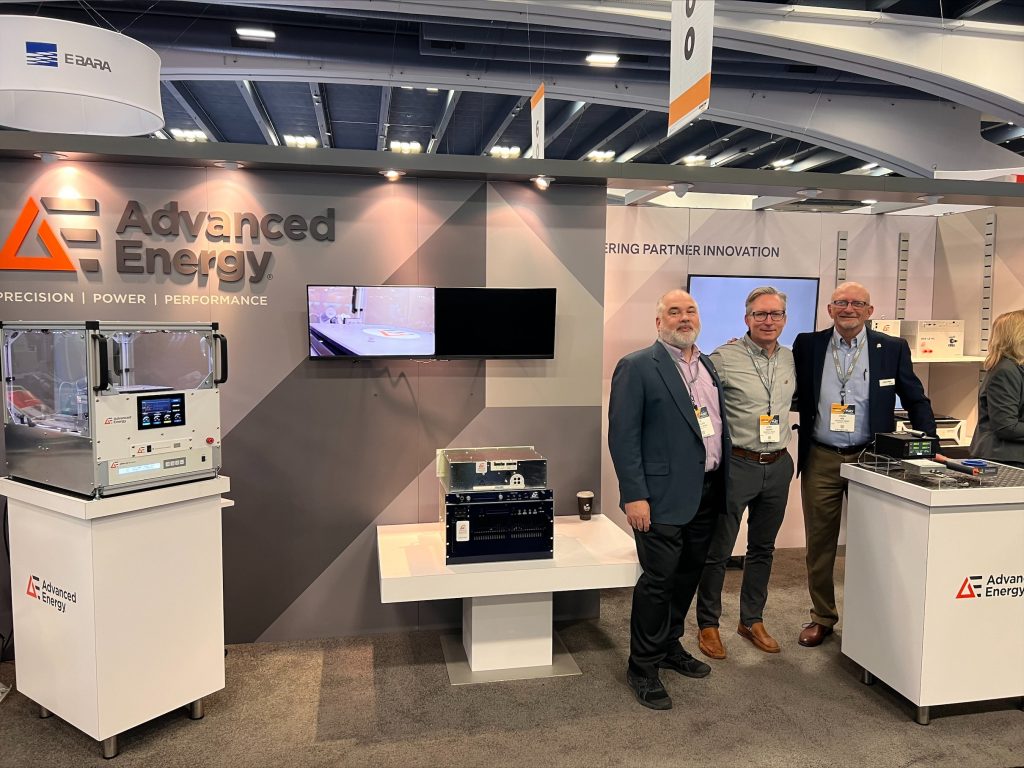 These are just a few of the power delivery, sensing, and control solutions we presented at the show.
Dhaval Dhayatkar
Advanced Energy
Dhaval is a Senior Director of Marketing of Plasma Power at Advanced Energy, responsible for strategic product marketing and product management for RF and DC generators, RF Matching Networks and Remote Plasma Sources. Prior to his current role, he held various positions in engineering, global services and product management at Advanced Energy. He holds a Masters in Electrical Engineering from the University of Colorado at Boulder and is pursuing a Masters of Business Administration from the University of California, LA (UCLA). In his free time, Dhaval likes to read, bike and travel.
その他の投稿 Dhaval Dhayatkar
関連記事