Advanced Energy Introduces Rugged, High Reliability DC/DC Modules Optimized for Rail and Mass Transportation Applications
已发布

十二月 14, 2022

DENVER, Colo., December 14, 2022 — Advanced Energy Industries, Inc. (Nasdaq: AEIS) – a global leader in highly engineered, precision power conversion, measurement and control solutions – introduced two rugged DC/DC converters optimized for demanding railway and other mass transportation applications. The ERM100 and ERM150 series extend the company's Artesyn™ product line with compact quarter-brick, fully encapsulated 100 W and 150 W options with efficiency levels of up to 91.5%.

With reinforced insulation and high EMC immunity, the ERM100 and ERM150 address the challenging electrical and physical operating environment in railway applications. In addition to using only UL94 V-0 rated flame retardant materials for their packaging, the converters are EN 61373-rated for vibration and thermal shock. A baseplate that is optimized for contact cooling simplifies thermal management, while a heatsink version is available for designs requiring more stringent heat management.

"Railway and other mass transportation applications present requirements in both rolling stock and infrastructure that are often compounded by continuous use over extended time periods," said Joe Voyles, vice president of marketing, industrial power conversion products at Advanced Energy. "The ERM100 and 150 provide a robust, high efficiency solution for design engineers working in this sector, giving them dependable power in a fully integrated module."

Both converters have a European Railway Standard EN50155 compliant input voltage range of 36 to 160 VDC, operate with a fixed switching frequency and deliver a single, continuous power output. The ERM100 and ERM150 have no minimum load requirement and exhibit low ripple and noise characteristics. Operating temperature range is -40°C to +85°C.

The high reliability of the RoHS-6 compliant modules is further reinforced by compliance with EN50155 and IEC60671 safety standards. The converters come with a three-year warranty.

For detailed product information and technical specifications, visit our website.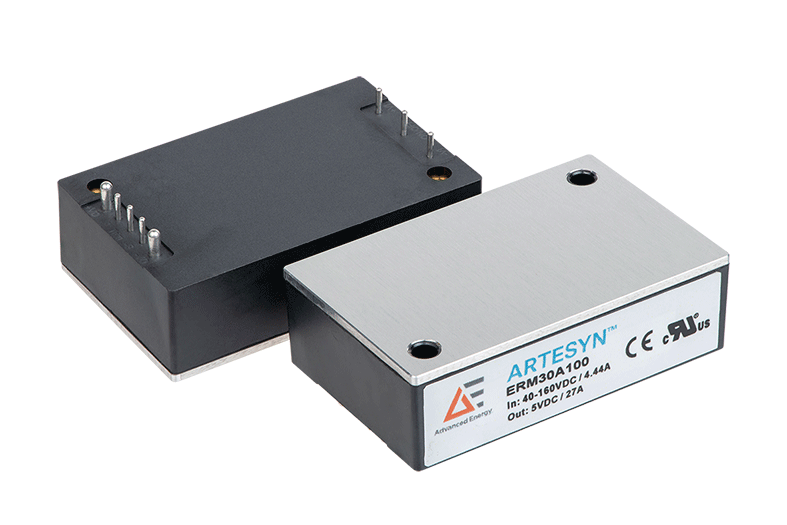 关于先进能源
Advanced Energy Industries, Inc.(纳斯达克股票代码:AEIS)是为关键任务应用和流程设计和制造高度工程化、精密电源转换、测量和控制解决方案的全球领先企业。Advanced Energy 的电源解决方案使客户能够在半导体设备、工业生产、医疗和生命科学、数据中心计算、网络和电信等众多行业的复杂应用中实现创新。凭借工程专有技术以及为全球客户提供的快速响应服务和支持,公司建立了合作伙伴关系,以满足技术进步的需求,推动客户的增长,并创新未来的电源。先进能源公司四十年来一直致力于完善电力系统。公司总部位于美国科罗拉多州丹佛市。
更多信息,请访问:
www.advancedenergy.com。
Advanced Energy | Precision.动力。性能。信任