Modular for Medical: A Non-Custom Approach to Custom Healthcare Power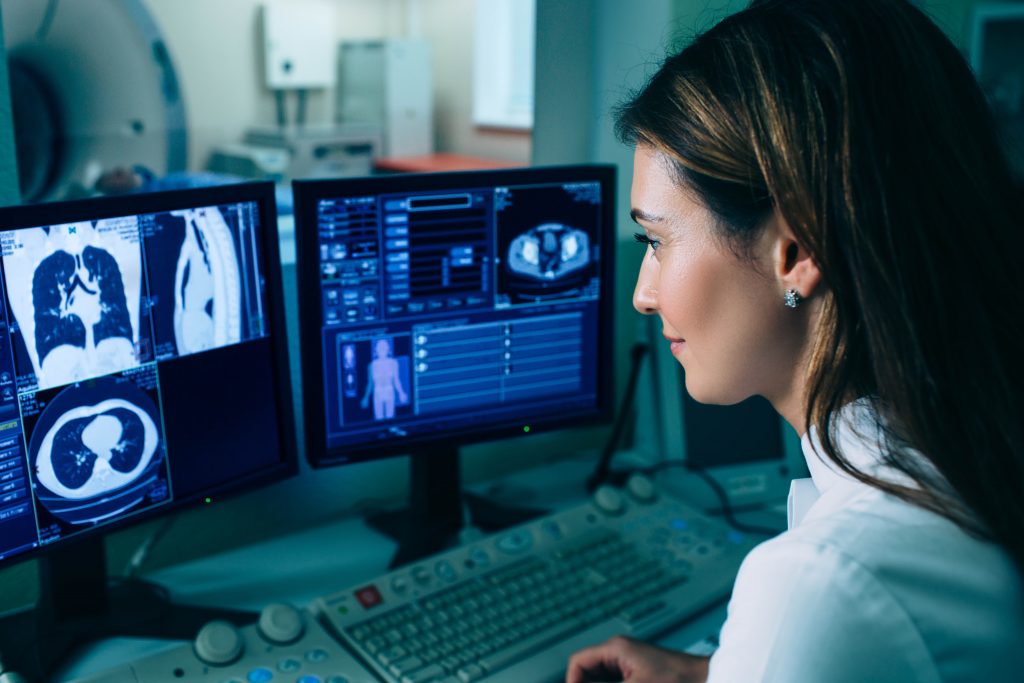 From MRI and CT scanners to diagnostics, electrosurgery and medical lasers, power schemes for many medical applications are characterized by lower to medium production volumes, specialized requirements and compliance with rigorous environmental and safety standards. As compromise is rarely an option in healthcare, designing these schemes often requires customized power supplies or extensive modification of off-the-shelf products. Both these approaches demand additional resources, cost and time - not least when it comes to test and certification.
However, for medium- to higher-power applications there is a 'third way' that brings together the benefits of custom design and standard product - the high-efficiency, configurable modular power supply.
Modular Power Supplies
A modular power supply allows engineers to combine a power factor correction (PFC) input stage (for converting AC mains to a DC voltage of around 400 V) with a variety of modular output options to match load voltages. The power supply housing will typically contain the front-end input stage, which is selected or configured based on the power rating and features required by the target application. This stage will also include the primary safety isolation.
The secondary power modules are connected to the front end via a backplane. These modules can be carefully selected to meet specific application requirements as they offer a variety of output voltages. Some of these outputs may also be adjustable, allowing designers and system architects to address more unusual requirements such as the voltages needed by certain medical sensor technologies, motors and other elements. Overvoltage, overcurrent, short-circuit and other protection is built into the modules and many offer integrated intelligence and remote sensing.
Modular power supplies minimize the time needed for development - designers choose the chassis that meets their power output needs and quickly pair it with the appropriate output modules. If requirements change during the development cycle, then modifying the architecture can be as simple as replacing one or more modules. In addition, the ability to use the same platform across multiple projects can speed time-to-market by minimizing learning curves for design teams - not to mention delivering economies of scale in purchasing.
In an industry heavily regulated by requirements for product testing to ensure the safety of patients and medical professionals, one of the biggest benefits of modular power supplies designed for medical applications is that they come pre-approved to all relevant safety and EMI standards, including IEC60601, the primary standard for medical power solutions. This standard defines minimum requirements for isolation voltage, creepage distance and insulation level to ensure patient / operator protection. Levels of protection are classified as 'Means of Patient Protection (MOPP)' and 'Means of Operator Protection (MOOP)', with MOPPs being slightly more stringent.

IEC60601 defines various methods of protection
Power supplies are a safety critical component in medical equipment. By choosing a modular power supply that is already fully certified with IEC60601, the end system compliance is greatly simplified, removing a significant risk from the design process as well as saving significant time and cost associated with testing and certification.
Excelsys CoolXTM Modular Power Supplies
Advanced Energy's own family of Excelsys CoolX modular power supplies includes two fanless models: the CoolX600 and the CoolX1000 series, the world's only fanless 1000 W modular power supply. Made possible by high operating efficiencies of up to 93%, the fanless operation of these power supplies is beneficial for a number of reasons. Reliability is improved by both removing the need for a moving part and eliminating the problem of drawing in dust and dirt that could eventually impede airflow or lead to component damage. What's more, undesirable audio noise and vibration is eliminated.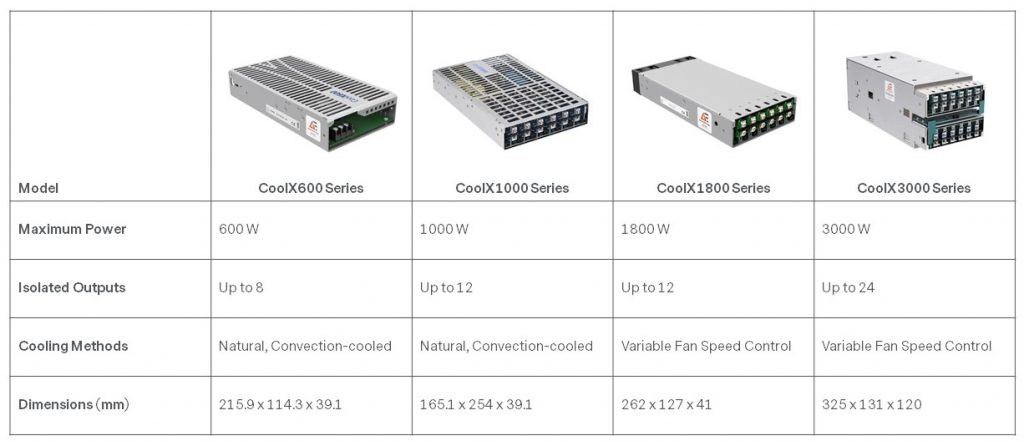 Advanced Energy's CoolX offers a wide range of solutions specifically for medical applications
CoolX front ends are combined with CoolMod modules to deliver fully compliant power supplies that precisely match application-specific requirements. Twelve different single- or dual-output CoolMod modules can be chosen, each of which occupies just one slot. By accepting up to six CoolMod modules, for example, the CoolX1000 supports up to 12 isolated DC outputs ranging from 2.5 to 200 V. In its medical version, this power supply carries full IEC60601-1 (3rd edition) and IEC60601-1-2 (4th edition, EMC) approvals.
For higher power applications, Advanced Energy offers the CoolX1800 and the CoolX3000 series, which is the market's smallest 3000 W configurable modular power supply for medical applications. These fan-based systems feature variable speed fan control to provide optimized thermal management.
All CoolX power supplies feature on-board intelligence that allows system designers to monitor and control power supply performance via a PMBus™ interface and an easy-to-use GUI. This helps to quickly identify design margins that may require attention during design and development and provides a window into the health of the system when deployed in the field.
Dermot Flynn
Advanced Energy
Dermot Flynn is the Director of Strategic Marketing, Medical Power Products at Advanced Energy. In his 20 years in the power supply industry, Dermot has held a number of senior roles in product development, product & technical marketing, and sales. Dermot holds BAI in Electronic and Electrical Engineering and BA in Mathematics from Trinity College, Dublin, as well as a Higher Diploma in Management & Marketing from University College, Cork, and H-Dip in Education from Trinity College, Dublin.
更多文章 Dermot Flynn
相关帖子