Executive Perspective: Five Questions with Isabel Yang, Chief Technology Officer
In our Executive Perspective blog series, we chat with Advanced Energy's newest members of our executive team to learn more about their professional past, lessons learned and how they expect to make an impact in their first 12 months at AE.
Today we chat with Isabel Yang, AE's new Chief Technology Officer.
1 - What's your professional background?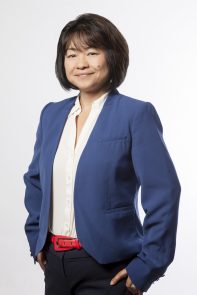 I started my career in the semiconductor industry, focused on transistor design and process integration. I then decided to broaden my expertise, and began managing large semiconductor joint development partnerships of global companies such as Samsung, Sony, Toshiba, etc. I learned the true meaning of collaboration in a multicultural and diverse environment. Our agreed-upon common purpose and technology objectives had to transcend the barriers of company culture and communication styles. That was a very formative phase of my career.
After semiconductors, I got involved with IBM's intellectual property and licensing organization, which was run in a very disciplined manner, like a business, with revenue targets in addition to providing freedom of action protection for the company. My time there helped underscore the value of IP and how to leverage it in the most productive way to meet our business objectives. I then moved into R&D leadership roles with a focus on future-looking technology in IBM Research. I was the strategy and operations executive responsible for many facets of managing the day-to-day activities of a large, multi-continent lab ecosystem. I also spent a couple of years in corporate strategy to hone my business skills by helping with strategy transformation and exploring "white spaces" where we could apply IBM's core competencies. When the CTO opportunity at AE came about, it was clear that this organization was looking for someone who had a background in semiconductor, but who also had a broader range of expertise, which seemed like a natural fit for my skillset.
2 - What are your top 3 priorities in your first 12 months at AE?
Creating a culture where innovation and IP protection becomes part of our DNA. By leveraging our global AE community, we are positioned to further expand our leadership position in highly engineered products for mission critical applications.
Developing our technology and innovation roadmap for today, 3 years on and 5-10 years on. I am continually asking myself, "how will innovation impact us, prepare us for the future?"
Modernizing our current approaches to innovation. This means we are improving our internal processes, engaging academia around the world, collaborating with the start-up ecosystem and the like.
3 - What do you consider your greatest professional achievement?
I am AE's first CTO of record, which is a tremendous honor for me. It's exciting to blaze my own trail, so to speak, in that I get to define the role's scope. At the same time, it's a challenge to make it impactful, e.g. – gaining industry mindshare, positioning ourselves as thought leaders in our core competencies and beyond.
4 - What's one piece of advice you'd give to those who are new in their career?
Establish yourself as the expert in some area, so you can gain a reputation as a value-added member of your organization. Also, never be afraid to try new things – challenge yourself. Having a T-shaped skill set is important. Be able to have broader knowledge while also having a core competency. Doing this will help you become a more well-rounded member of your team and position you for growth.
5 - What do you do in your free time?
I moved to the Colorado Front Range about three months ago, so am currently spending much of my time exploring my new home with my family. We are avid outdoor / hiking family, so Colorado is a great fit for us. My goal is to soon be acclimated to high altitude hikes.
Up next in this blog series, we will hear from AE's COO, Neil Brinker.
Advanced Energy Editor
Advanced Energy
Verwandte Beiträge